Fine Molds

Topic

IJN Interceptor Mitsubishi J8M1 SHUSUI

Scale
1/48
Ref
FB6
A model of the brand Fine Molds the kit IJN Interceptor Mitsubishi J8M1 SHUSUI – Fine Molds FB6
Japan's first rocket-powered fighter aircraft jointly developed by the Japanese army and navy is Shusui is (Shusui). Increased at 1 minute and 30 seconds until the altitude of 10,000 m 1, as at that time that a top speed of 900km / h is the aim of high-performance breakthrough, the development has been advanced with reference to the German Me163. Was successful first flight on July 7, 1945. However, while highly anticipated as a trump card to intercept B-29, has reached the end of the war without having to participate in combat.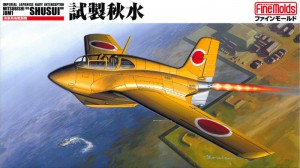 Wait, Searching Fine Molds FB6 for you…

Find kits on eBay:
Search on eBay

Search for what you need, We suggest this but it is you who decide

[ae_affiliate_byphil keyword="Mitsubishi aircraft"] ...
Related kits:
Views : 849