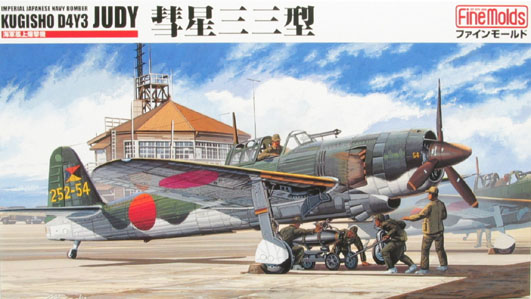 Fine Molds

Sujet

IJN Bomber KUGISHO D4Y3 JUDY

Scale
1/48
Ref
FB6
A model of the brand Fine Molds the kit IJN Bomber KUGISHO D4Y3 JUDY – Fine Molds FB7
Venus is the type of air-cooled engine was retrofit, a water-cooled Atsuta engine of the comet was suffering a delay of degradation and production capacity utilization. But what was reduced by an increase in air resistance, etc. speed performance, increased power and Kozokuryoku improvement. Was welcomed by the troops from that reliability and maintainability can be improved upon, and, most importantly. First appeared in 1944, has been struggling to attacks and suicide missions until the end of the war to the enemy task force.
Wait, Searching Fine Molds FB7 for you…

Find kits on eBay:
Search on eBay

Search for what you need, We suggest this but it is you who decide

[ae_affiliate_byphil keyword="Japanese Bomber"] ...
Related kits:
Views : 995