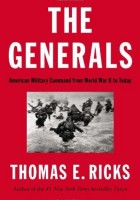 The Generals: American Military Command from World War II to Today
Thomas E. Ricks
Genre : History
Subjects :
Command of troops, Military History, History, Generals, Case studies
Issue :
29/10/2012
Editor :
Publisher :
Penguin Press HC, The
Format :
Hardcover
Pages :
576
Language :
en
Dimensions :
9.45 x 6.54 x 1.73 in
ISBN-10 :
9781594204043
ASIN :
1594204047
"From the #1 bestselling author of "Fiasco "and "The Gamble", an epic history of the decline of American military leadership from World War II to Iraq" History has been kind to the American generals of World War II—Marshall, Eisenhower, Patton, and Bradley—and less kind to the generals of the wars that followed. In "The Generals", Thomas E. Ricks sets out to explain why that is. In part it is the story of a widening gulf between performance and accountability. During the Second World War, scores of American generals were relieved of command simply for not being good enough. Today, as one American colonel said bitterly during the Iraq War, "As matters stand now, a private who loses a rifle suffers far greater consequences than a general who loses a war." In "The Generals "we meet great leaders and suspect ones, generals who rose to the occasion and those who failed themselves and their soldiers. Marshall and Eisenhower cast long shadows over this story, as does the less familiar Marine General O. P. Smith, whose fighting retreat from the Chinese onslaught into Korea in the winter of 1950 snatched a kind of victory from the jaws of annihilation. But Korea also showed the first signs of an army leadership culture that neither punished mediocrity nor particularly rewarded daring. In the Vietnam War, the problem grew worse until, finally, American military leadership bottomed out. The My Lai massacre, Ricks shows us, is the emblematic event of this dark chapter of our history. In the wake of Vietnam a battle for the soul of the U.S. Army was waged with impressive success. It became a transformed institution, reinvigorated from the bottom up. But if the body was highly toned, its head still suffered from familiar problems, resulting in tactically savvy but strategically obtuse leadership that would win battles but end wars badly from the first Iraq War of 1990 through to the present. Ricks has made a close study of America's military leaders for three decades, and in his hands this story resounds with larger meaning: about the transmission of values, about strategic thinking, and about the difference between an organization that learns and one that fails.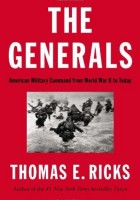 When George Marshall headed the U.S. Army in WWII, generals were frequently fired. They haven't much been since, writes Ricks, a phenomenon he connects to the strategically unsatisfactory conclusions to subsequent wars in Korea, Vietnam, Iraq, and Afghanistan. Ricks was a military-affairs journalist, and his criticism of the Iraq invasion (Fiasco, 2006) echoes in this survey of the army's top echelons since WWII. He diagnoses the top brass' problem as being good at organizing combat operations but terrible at converting tactical victories into war-winning success. He points to several causes of the situation. One has been the slowness of generals trained in set-piece battles to adapt to insurgency warfare. Another has been, Ricks argues, the sidelining of nonconformist officers, outliers in personal habits or in their unorthodox positions in the army's internal debates about strategic doctrine. Individual cases, such as those of Maxwell Taylor and William Westmoreland, stoke his negative appraisal of the army's leadership, which he unifies by urging as a remedy a revival of Marshall's methods of promoting and dismissing generals. Ricks' prominence plus the publisher's promotion should equal a high-profile title. –Gilbert Taylor