Model Centrum Publishing

Series
Armor PhotoGallery
Title
Char Panther Ausf.A
Ref
19
Description

Le char "Panther Ausf.A"
A book signed Armor PhotoGallery la revue «Panther Ausf.A – Armor Photogallery 019».
Le SdKfz 171 Panzer V Panther was a battle tank used by the German army during the Second world War, from July 1943 during the battle of Kursk, to may 8, 1945. Designed to counter the tank T-34 soviet, and replace the Panzerkampfwagen III and Panzerkampfwagen IV, it served ultimately to their sides, up to the end of the war, in three major versions : "D ", " A ", " G ". One last version " F " or "Panther II" was being planned, prior to the ultimate replacement of the "Panther" by the tank " E-50 ".
Source: Panther on Wikipedia
Wait, Searching Armor Photogallery 019 for you…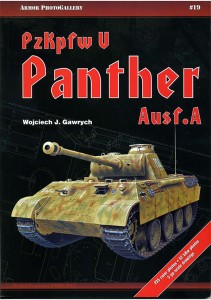 Wait, Searching Panther Ausf.A for you…
You can see also :
Find items about "Panther Ausf.A" on AliExpress:
Views : 370
Find by:
Wojciech J Gawrych / PzKpfw VI Tiger I Ausf E Part 1
panther ausf a walk around
panther ausf
Fotos del tanque pantera
imagenes de la armadura de pantera
bilden panzer panther
panther książka ausf
Panzerkampfwagen IV Ausf A броня
PzKpfw VPanther Ausf A pdf
sdkfz 171 gallery
1/35 Sd Kfz 254 装甲砲兵観測車