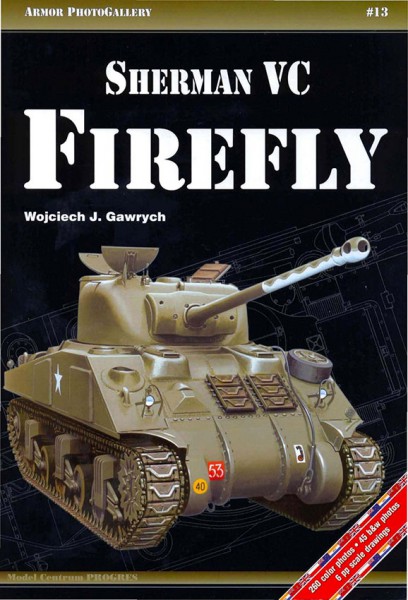 Model Centrum Publishing

Series
Armor PhotoGallery
Title
Sherman VC Firefly Tank
Réf
13
Description

The "Sherman VC Firefly" tank
A signed book Armor PhotoGallery "Char Sherman VC Firefly - Armor Photogallery 013" magazine.
The Sherman Firefly (luciole) est un chasseur de chars britannique de la Seconde Guerre mondiale basé sur le châssis du char américain Sherman M4. les Britanniques bénéficiaient depuis 1942 d'un canon antichar performant, l'Ordnance QF 17 pounder. Il décidèrent donc de monter ce canon sur la châssis d'un Sherman : le Firefly (luciole) était né. Il fallut bien sûr modifier quelques parties du char afin de compenser le poids du canon, ce qui explique l'extension de la tourelle à l'arrière contenant la radio et pouvant recevoir un coffre. Très vite, ce char se posa comme le meilleur char des alliés, son excellent canon, associé à des munitions spéciales APDS soutenait la comparaison avec le 75 mm KwK 42 du Panther, voire le canon de 88 mm des Tigres. Ce « casseur de panzer » devint une cible prioritaire des tankistes de la Waffen-SS et de la Wehrmacht. Malheureusement pour les britanniques, le principal défaut du Sherman subsistait, c'est-à-dire sa protection insuffisante due à sa silhouette trop haute et son blindage trop mince. Au niveau de la dotation, il y avait dans une division blindée un Firefly pour quatre Sherman ou Cromwell.
Source: Sherman VC Firefly sur Wikipedia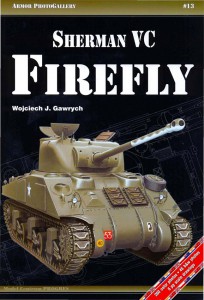 Wait, Searching Armor Photogallery 013 for you…

Find kits on eBay:
Search on eBay

Search for what you need, We suggest this but it is you who decide

[ae_affiliate_byphil keyword="Tank Sherman"]
You can see also :
Related kits:
Views : 895