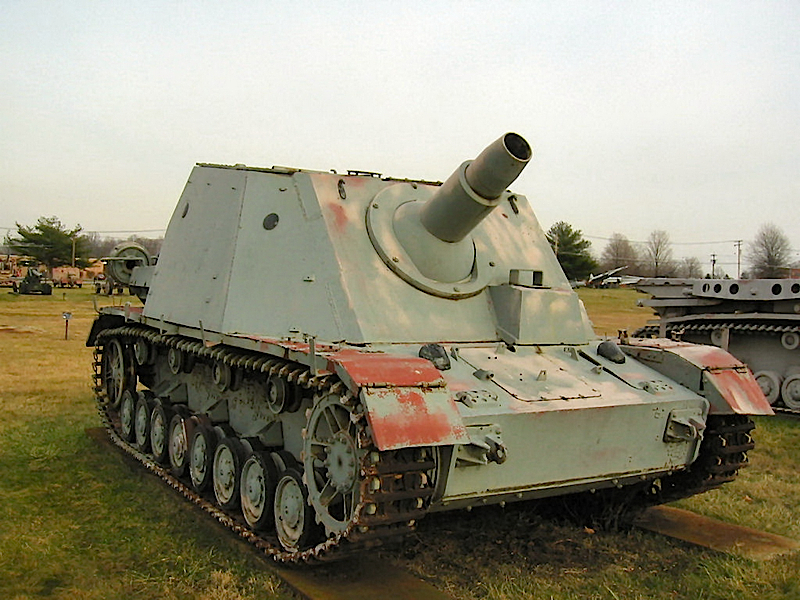 Brummbär – Sturmpanzer IV – Sd.Kfz 166

Pays
Germany
Type
Heavy assault gun
Produced
1943–1945
Built
306
The Sturmpanzer (also known as Sturmpanzer 43 or Sd.Kfz. 166) was a German armoured infantry support gun based on the Panzer IV chassis used in the Second World War. It was used at the Battles of Kursk, Anzio, Normandy, and was deployed in the Warsaw Uprising. It was known by the nickname Brummbär (German: "Grouch") by Allied intelligence, a name which was not used by the Germans. German soldiers nicknamed it the "Stupa", a contraction of the term Sturmpanzer. Just over 300 vehicles were built and they were assigned to four independent battalions.
Source: Brummbar on Wikipedia
Brummbar – Sturmpanzer IV – Sd.Kfz.166 – Walk Around
Photographer
Unknow
Localisation
Unknow
Photos
70
Wait, Searching Sd.Kfz.166 photos for you…

Related kits:
Sdkfz 166 Brumbar Walk Around
Photographers
Matthew Flegal, Vladimir Yakubov
Localisation
Unknow
Photos
99
Find kits on eBay:
Search on eBay
Search for what you need, We suggest this but it is you who decide
...
Wait, Searching Sd.Kfz.166 photos for you…

Views : 6074