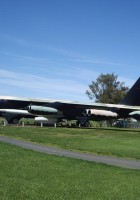 Boeing B-52D-80-BO'er

Land
USA
Type
Strategiske bombefly
Foto
Vladimir Yakubov
Find
Slottet AFB Museum
Beskrivelse
Album

149

fotos walk-around af en "Boeing B-52D-80-BO'er"
Foto galleri af en Boeing B-52D-80-BO'er, The Boeing B-50 Superfortress is an American strategic bomber. A post–World War II revision of the Boeing B-29 Superfortress, it was fitted with more powerful Pratt & Whitney R-4360 radial engines, stronger structure, a taller tail fin, and other improvements. It was the last piston-engined bomber designed by Boeing for the United States Air Force (except the never-completed B-54, a derivative of the B-50). Not as well known as its direct predecessor, the B-50 was in USAF service for nearly 20 years.
Wait, Searching Boeing B-52D-80-BO Stratofortressphotos for you…
Wait, Searching Boeing B-52D-80-BO Stratofortress for you…
Boeing B-52H'er
Fotograf
Martin
Find
Unknow
Fotos
93
Specifikationer
Rolle
Strategiske bombefly
Producenten
Boeing
Første flyvning

25 June 1947

Indledning
Et tusind ni hundrede og fyrre otte
Pensioneret

1965

Primær bruger
United States Air Force
Produceret

1947–1953

Antallet bygget
370
Relaterede kits:
Finde kits på eBay:
Søg på eBay
Søg efter hvad du har brug for, Vi foreslår dette, men det er dig der bestemmer
Du kan også se :
Visninger : 1038