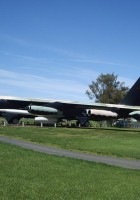 Boeing B-52D-80-BO Rumänska

Landet
USA
Typ
Strategiska bombplan
Fotografi
Vladimir Yakubov
Hitta
Slottet AFB Museum
Beskrivning
Album

149

foton promenad runt i "Boeing B-52D-80-BO Stratofortress"
Fotogalleri från en Boeing B-52D-80-BO Rumänska,
The Boeing B-50 Superfortress is an American strategic bomber. A post–World War II revision of the Boeing B-29 Superfortress, it was fitted with more powerful Pratt & Whitney R-4360 radial engines, stronger structure, a taller tail fin, and other improvements. It was the last piston-engined bomber designed by Boeing for the United States Air Force (except the never-completed B-54, a derivative of the B-50). Not as well known as its direct predecessor, the B-50 was in USAF service for nearly 20 years.
Wait, Searching Boeing B-52D-80-BO Stratofortressphotos for you…
Boeing B-52D-80-BO Stratofortress
Boeing B-52D-80-BO Stratofortress
Boeing B-52D-80-BO Stratofortress
Boeing B-52D-80-BO Stratofortress
Boeing B-52D-80-BO Stratofortress
Boeing B-52D-80-BO Stratofortress
Boeing B-52D-80-BO Stratofortress
Boeing B-52D-80-BO Stratofortress
Boeing B-52D-80-BO Stratofortress
Boeing B-52D-80-BO Stratofortress
Boeing B-52D-80-BO Stratofortress
Boeing B-52D-80-BO Stratofortress
Wait, Searching Boeing B-52D-80-BO Stratofortress for you…
Boeing B-52H Rumänska
Fotograf
Martin
Hitta
Unknow
Foton

93
Specifikationer
Roll
Strategiska bombplan
Tillverkare
Boeing
Första flygningen

25 June 1947

Introduktion
1948
Pensionär

1965

Primär användare
United States Air Force
Producerade

1947–1953

Antal byggda

370
Find items about "Stratofortress" on AliExpress (c):
Visningar : 274