Northrop Grumman EA-6B Prowler

Zemlja
Sad
Ulogu

Electronic warfare – Attack aircraft

Prva muva

25 May 1968

Izgradio
170
The Northrop Grumman EA-6B Prowler is a twin-engine, four-seat, mid-wing electronic warfare aircraft derived from the A-6 Intruder airframe. The EA-6A was the initial electronic warfare version of the A-6 used by the United States Marine Corps and United States Navy. Development on the more advanced EA-6B began in 1966. An EA-6B aircrew consists of one pilot and three Electronic Countermeasures Officers, though it is not uncommon for only two ECMOs to be used on missions. It is capable of carrying and firing anti-radiation missiles (ARM), such as the AGM-88 HARM missile.
Grumman EA-6B Prowler Walk Around
Fotograf
Vladimir Jakubov
Lokalizacija

Palm Springs Air Museum

Fotografije

224
Wait, Searching Northrop Grumman EA-6B Prowler for you…

Srodni kompleti: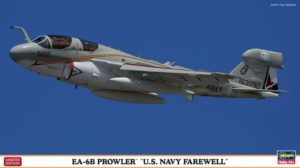 EA-6B Prowler 'US Navy Farewell'
Hasegava
1:72
Kompletan komplet
Clic za pretragu
Pronađi komplete na eBay-u:
Pretraga na eBay-u
Tražimo ono što vam treba, predlažemo vam ovo, ali vi ste ti ti koji odlučujete
Možete videti i :
Views : 2215