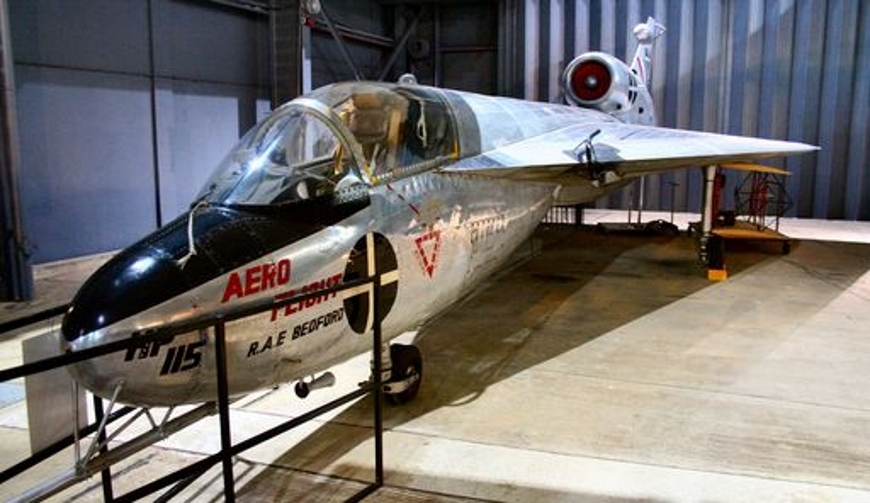 Handley Page HP.115

Zemlja
Velike britanije
Ulogu
Eksperimentalni avioni
Prvi let
17 Avgust 1961
Izgradio
1
Čaj Handley Page HP.115 bio je britanski delta wing istraživački avion koji je napravio Handley Page kako bi testirao karakteristike rukovanja niskom brzinom koje se očekuju od supersoničnog putničkog aviona vitke delta konfiguracije. Ona je formirala deo britanskog supersoničnog programa istraživanja aviona, sprovedenog šezdesetih godina prošlog veka i pod pokroviteljstvom Ministarstva snabdevanja, koji je na kraju proizveo Konkord.
Izvor:

Handley Page HP.115 on Wikipedia
HP.115 Walk Around
Photographer
Howard Mason
Localisation
Fleet Air Arm Museum
Photos
23
Wait, Searching Handley Page HP.115...

Pronađi komplete na eBay-u:
Pretraga na eBay-u
Tražimo ono što vam treba, predlažemo vam ovo, ali vi ste ti ti koji odlučujete
Handley Page HP.115 (Prototype) Walk Around
Fotograf
Unknow
Lokalizacija
Nepoznato
Fotografije
21
...
Srodni kompleti:
Više informacija:
The Handley Page HP.115 was a British experimental aircraft designed to test the low-speed handling characteristics of a delta wing with a very high sweep angle of 75 degrees. It was built in the 1960s as part of the research programme for the development of the supersonic airliner Concorde. The HP.115 was a single-engine jet aircraft with a slender fuselage and a T-tail. The delta wing had no flaps or ailerons, and was controlled by elevons on the trailing edge and a large rudder. The aircraft had a fixed tricycle landing gear and was powered by a Rolls-Royce Viper turbojet engine. The HP.115 made its first flight on 17 August 1961, piloted by Hugh Merewether. It flew a total of 113 flights, demonstrating excellent low-speed stability and control, as well as high lift-to-drag ratio. The aircraft was retired in 1974 and is now on display at the Fleet Air Arm Museum in Yeovilton, Somerset.
Views : 1820