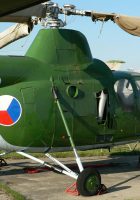 Mil Mi-1 Hare

Country
Soviet Union
Type
Light utility helicopter
Photograph
Petr Koliba, Pavel Senk
Locate
Unknow
Description
Album of

142

photos walk-around of «Mil Mi-1 Hare»
Photo gallery of a Mil Mi-1 Hare, The Mil Mi-1 (USAF/DoD reporting name "Type 32", NATO reporting name "Hare") was a Soviet three- or four-seat light utility helicopter. It was the first Soviet helicopter to enter serial production. It is powered by one 575 hp Ivchenko AI-26V radial. It entered service in 1950 and was first seen on the 1951 Soviet Aviation Day, Tushino and was produced for 16 years. More than 1,000 were built in the USSR and 1,594 in Poland, as SM-1.
Source: Mil Mi-1 Hare on Wiki
Wait, Searching Mil Mi-1 Hare photos for you…
Wait, Searching Mil Mi-1 Hare for you…
Mi-1 Hare Walk Around
Photographer
Andrey Zinchuk
Localisation
Unknow
Photos
27
You can see also :
Views : 806
Find by:
ми-1 walkaround
helicopter for hare