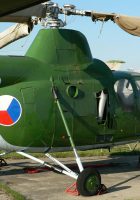 Mil Mi-1 Hare

Land
Sowjetunion
Rolle
Light utility helicopter
Erstflug
20. September 1948
Gebaut
2594+
Foto-Galerie Mil Mi-1 Hare, The Mil Mi-1 (USAF/DoD reporting name "Type 32", NATO reporting name "Hare") was a Soviet three- or four-seat light utility helicopter. It was the first Soviet helicopter to enter serial production. It is powered by one 575 hp Ivchenko AI-26V radial. It entered service in 1950 and was first seen on the 1951 Soviet Aviation Day, Tushino and was produced for 16 years. More than 1,000 were built in the USSR and 1,594 in Poland, as SM-1.
Quelle: Mil Mi-1 Hare auf Wiki
Warten Sie, Suche Mil Mi-1 Hare Fotos für Sie...
Mi-1 Hare Herumlaufen
Fotografen
Peter Koliba, Pavel Senk
Lokalisierung
Unknow
Fotos
142
Warten Sie, Suche Mil Mi-1 Hare für Sie...
Mi-1 Hare Herumlaufen
Fotograf
Andrej Sintschuk
Lokalisierung
Unknow
Fotos
27
Verwandte kits:
Finden kits auf eBay:
Suche auf eBay
Suche für das, was Sie benötigen, Wir empfehlen dies, aber es ist Ihr, die entscheiden
You can see also :
Mil Mi-1M Walk Around
Fotograf
Vladimir Yakubov
Lokalisierung
Minsk-Borovaya Air-Museum
Fotos
72
Sie können den Kommentar hier :
https://new.reddit.com/r/NetMaquettes/comments/8y71ja/mil_mi1_hare_walkaround/

Aufrufe : 1613
Find by:
ми-1 walkaround
helicopter for hare