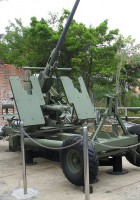 Bofors 40 mm

Country
UK
Type
Anti-aircraft gun
Period
Second world war
Description

Album

91

photos walk-around du canon «Bofors 40 mm»
Photo gallery on a Bofors 40 mm, The 40 mm Bofors est un canon antiaérien suédois en activité lors de la seconde guerre mondiale. Ce canon antiaérien Bofors has been used by virtually all components of the allied armies, the americans use a derivative version of the 40mm Gun M1 automatic (AA).
Source: Wikipedia
Wait, Searching Bofors 40 mm photos for you...

Wait, Searching Bofors 40 mm for you...

Related kits:
Find kits on eBay:
Search on eBay
Search for what you need, We suggest this but it is you who decide
You can see also :
You can comment here :
Bofors 40 mm – Walk Around from u/PhilTheNet
Views : 2237
Find by:
canon de 40 mm bofors
gmc bofors 40mm gun walkaround
40mm Bofors AA Gun Walkaround
gmc and 40mm anti aircraft 1/35
walkaround gmc bofors 40mm gun
gmc bofors 40
40mm bofors walk around
40mm bofors cannon
hobby boss 1/35 gmc bofors 40mm
British Version of WWII BoFors40mm anti-aircraft toy model
pistolas 40 mm fotos
m247 sergeant york anti aircraft gun imagenes
btr 60 canon
walkaround gmc bofors
canon 40 mm bofors
gmc bofors 40mm gun walk around
40 mm bofors
cañon bofors
foto mitragliatrice A A Bofors 40mm
40mm bofors kanone