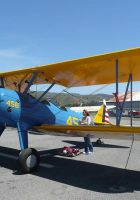 Stearman PT-13D Kaydet

Land
USA
Type
Militære trener fly
Fotografi
Vladimir Yakubov
Finn
Pacific Coast Drøm Maskiner 2008
Beskrivelse
Album av

120

bilder walk-rundt av en "Stearman PT-13D Kaydet"
Bildegalleri av en Stearman PT-13D Kaydet, The Stearman (Boeing) Model 75 is a biplane used as a military trainer aircraft, of which at least 10,626 were built in the United States during the 1930s and 1940s. Stearman Aircraft became a subsidiary of Boeing in 1934. Widely known as the Stearman, Boeing Stearman or Kaydet, it served as a primary trainer for the United States Army Air Forces, the United States Navy (as the NS & N2S), and with the Royal Canadian Air Force as the Kaydet throughout World War II. After the conflict was over, thousands of surplus aircraft were sold on the civilian market. In the immediate postwar years they became popular as crop dusters, sports planes, and for aerobatic and wing walking use in air shows.
Wait, Searching Stearman PT-13D Kaydet photos for you…
Wait, Searching Stearman PT-13D Kaydet for you…
Relaterte kits:
Finn sett på eBay:
Søk på eBay
Søk etter hva du trenger, Vi foreslår dette, men det er du som bestemmer
Du kan se også :
Views : 2094
Søk etter:
stearman kaydet
Fairchild PT-13
stearman kaydet walkaround
Stearman PT-27