SdKfz 02 – Kettenkrad

Country
Germany
Type
Light half-track gun tractor
In service
1941–1945
Den SdKfz 2, better known as the Kleines Kettenkraftrad HK 101 or Kettenkrad for short (where Ketten means "chain" or "tracks" and krad is the military abbreviation of the German word Kraftrad, the administrative German term for motorcycle), started its life as a light tractor for airborne troops. The vehicle was designed to be delivered by Junkers Ju 52 aircraft, though not by parachute. The vehicle had the advantage of being the only gun tractor small enough to fit inside the hold of the Ju 52, and was the lightest mass-produced German military vehicle to use the complex Schachtellaufwerk overlapped and interleaved road wheels used on almost all German military half-track vehicles of World War II.
Kilde: Kettenkrad på Wikipedia
Vente, Søke Kettenkrad bilder for deg...

SdKfz 02 – Kettenkrad
Fotograf
Ukjent
Beliggenhet
Ukjent
Bilder

100
Tekniske egenskaper : Moteur : Opel Olympia 38 à essence avec refroidissement à eau, 4 cylindres en ligne OHV ; 1 478 cc³ ; 36 hp Dimensions : longueur 2,74 m, largeur 1 m, hauteur 1,01m Performances : vitesse max. 72 km/h sur route – 48 km/h tout terrain Autonomie : 260 km sur route – 190 km tout terrain
Vente, Søke Kettenkrad for deg...

Relaterte kits: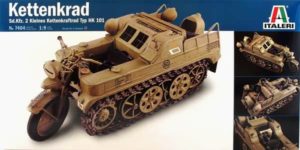 Kettenkrad Sd.Kfz. 2 Kleines Kettenkraftrad Typ HK 101
Italeri
Full kit
Clic for Søk
Finn sett på eBay:
Søk på eBay
Søk etter hva du trenger, Vi foreslår dette, men det er du som bestemmer
Du kan se også :
SdKfz 02 – Kettenkrad – Gå Rundt fra NetMaquettes
Visninger : 4997
Søk etter:
701 S9t8E9HZJgYxM6Ai-7nZuX7JcAuJ6hrb2i6x-JdgQ4AXrUL1AVuSubLhY-7ap_71 f66bb6e247d57c8e8526534fb8bd2a904aea4906
kettenkraftrad half-track motorcycle
kettenkrad walkaround
Kettenkrad translation
Sdkfz 92 Kettenkrad
двигатель AG Stoewer
Sd kfz2 walkaround
moteur sdkfz
nsu kettenkrad model
アカデミ- ケッテンクラ-ト
Kettenkraftrad for sale
Kettenkrad Tracked Motorcycle
kettenkrad parts
kettenkrad for sale in u s
kettenkrad engine block
kettenkrad engine
half track motorcycle for sale
german tracked motorcycle for sale
german kettenkrad for sale
engine SD KFZ 2 KLEINES KETTENKRAD