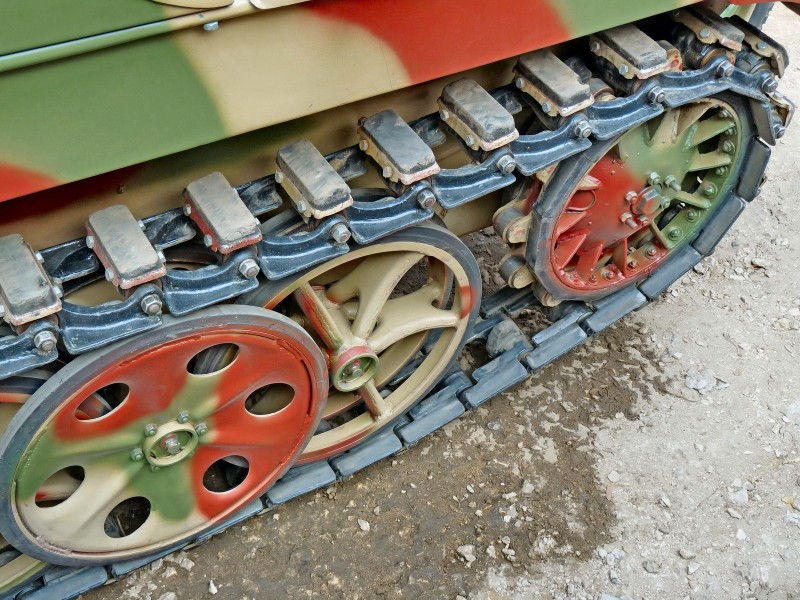 SdKfz 02 – Kettenkrad

Country
Germany
Type
Light half-track gun tractor
In service
1941–1945
The SdKfz 2, better known as the Kleines Kettenkraftrad HK 101 or Kettenkrad for short (where Ketten means "chain" or "tracks" and krad is the military abbreviation of the German word Kraftrad, the administrative German term for motorcycle), started its life as a light tractor for airborne troops. The vehicle was designed to be delivered by Junkers Ju 52 aircraft, though not by parachute. The vehicle had the advantage of being the only gun tractor small enough to fit inside the hold of the Ju 52, and was the lightest mass-produced German military vehicle to use the complex Schachtellaufwerk overlapped and interleaved road wheels used on almost all German military half-track vehicles of World War II.
Source: Kettenkrad on Wikipedia
SdKfz 02 – Kettenkrad
Photographer
Unknow
Localisation
Unknow
Photos
100
Wait, Searching Kettenkrad photos for you…

Caractéristiques techniques : Moteur : Opel Olympia 38 à essence avec refroidissement à eau, 4 cylindres en ligne OHV ; 1 478 cc³ ; 36 hp Dimensions : longueur 2,74 m, largeur 1 m, hauteur 1,01m Performances : vitesse max. 72 km/h sur route – 48 km/h tout terrain Autonomie : 260 km sur route – 190 km tout terrain
SdKfz2 Kettenkrad Walk Around
Photographer
Vladimir Yakubov
Localisation
Jacques Littlefield Collection
Photos
32
Related kits: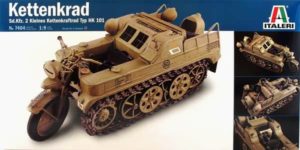 Kettenkrad Sd.Kfz. 2 Kleines Kettenkraftrad Typ HK 101
Italeri
7404
1:9
Full kit
Clic for Search
Find kits on eBay:
Search on eBay

Search for what you need, We suggest this but it is you who decide

...

Views : 9870