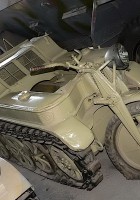 SdKfz 02 – Kettenkraftrad HK-101

Country
Germany
Type
Sonderkraftfahrzeug
Description

Album

204

photos de

SdKfz 02 – Kettenkraftrad HK-101
Galerie photo d'un SdKfz 02 – Kettenkraftrad HK-101, Le SdKfz 2, plus connu sous les noms de Kleines Kettenkraftrad HK 101 ou Kettenkrad is a "Sonderkraftfahrzeug" (SdKfz) which means special motor vehicle. It is a model of halftrack. Produced from 1940 to 1948, it carries 2 men, but it reaches 70 km/h and behaves very well on any type of terrain. It was originally a small tractor for airborne troops. This vehicle has been designed to be delivered by aircraft, Junkers Ju 52, but not by parachute. The vehicle had the advantage of being the only small artillery tractor, small enough to fit in the hold of the Ju 52. It has been used as transport of troops, but also for other missions, including the unwinding of telephone cables or the towing of artillery pieces light. It weighed empty 1235 kg.
Source: wikipedia
Technical characteristics :
Engine : Opel Olympia 38 petrol with water cooling, 4 cylinder in-line OHV – 1 478 cc3 – 36 hp Dimensions : length-2,74 m, width 1 m, height 1.01 m Performance : max speed. 72 km/h on road – 48 km/h all-terrain Autonomy : 260 km on road – 190 km all-terrain
Wait, Searching Kettenkraftrad for you…

Wait, Searching Kettenkraftrad photos for you…

Related kits:
Find kits on eBay:
Search on eBay
Search for what you need, We suggest this but it is you who decide
You can see also :
You can comment here :
SdKfz 02 – Kettenkraftrad HK-101 – Walk Around from r/NetMaquettes
Views : 3198