Jagdpanzer IV – Sdkfz.162

Land
Tyskland
Type
Tank Destroyer
Perioden
2. VERDENSKRIG
Emnet

Album av

24

photos of a "SdKfz 162 – Jagdpanzer IV"
Photo Gallery of a SdKfz 162 – Jagdpanzer IV, With the growth and evolution of the German panzer force, it was realized that there is a need for dedicated and mobile anti-tank weapons to be a part of new armoured formations. As early as March of 1940, Germans produced first self-propelled anti-tank gun mounted on tank chassis – Panzerjager 1 armed with ex-Czechoslovak 47mm Pak(t) 36 gun that used PzKpfw 1 Ausf B tank chassis. The vehicle was followed by Marder 1 vehicles that used captured French tank chassis, Marder Il that used various PzKpfw Il chassis and Marder III that used ex-Czechoslovak PzKpfw 38(t) chassis. Ali Marders were armed with German made 75mm Pak 40 or captured Soviet 76.2mm Pak 36(r) guns and offered minimal protection for their crews. Ali those vehicles were created in order to increase the mobility of anti-tank weapons by mounting them on variety of available and often obsolete tank chassis. They were the first generation of tank destroyers 1 tank hunters and were ail seen as "interim solution" implemented to fill the gaps until better designs can be introduced into service.
Kilde: Kagero
Wait, Searching SdKfz 162 – Jagdpanzer IV photos for you…

Relaterte kits: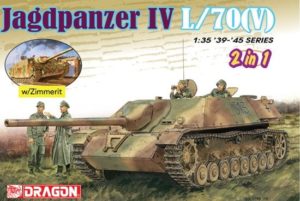 Jagdpanzer IV L/70(V) (2 in 1)
Dragon
6498
1:35
Full Kit
Clic for Søk
Finn sett på eBay:
Søk på eBay
Søk etter hva du trenger, Vi foreslår dette, men det er du som bestemmer
Du kan se også :
Visninger : 1341