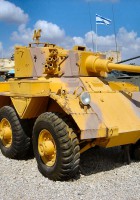 Saladin Armored Car

Land

United Kingdom

Type
Pansret Bil
Sted

Yad La-Shiryon Museum, Latrun.

Emnet

Album av

225

photos walk-around of a «Saladin Armored Car»
Bildegalleri av en Saladin Armored Car, The Saladin (FV601) is a six-wheeled armoured car built by Alvis, and fitted with a 76mm gun. Used extensively by the British Army, it replaced the AEC Armoured Car that had been in service since World War II. The Saladin was the armoured car of Alvis' FV600 series, using similar suspension and drive train components to the Saracen armoured personnel carrier, Stalwart high mobility load carrier and Salamander fire tender. It is named after the warrior Saladin, Alvis using names beginning with an "S" for the whole range of FV600 vehicles.
Wait, Searching Saladin Armored Car photos for you…

Wait, Searching Saladin Armored Car for you…

Relaterte kits:
Finn sett på eBay:
Søk på eBay
Søk etter hva du trenger, Vi foreslår dette, men det er du som bestemmer
Du kan se også :
Views : 1922