T-34 85

Land
Tyskland
Rolle
Medium tank
I tjeneste
1940–nåværende
Bygget
84000+
When the T-43 was cancelled, the Soviet command made the difficult decision to retool the factories to produce a new model of T-34 with a turret ring enlarged from 1,425 mm (56 in) to 1,600 mm (63 in), allowing a larger turret to be fitted. The T-43's turret design was hurriedly adapted by V. Kerichev at the Krasnoye Sormovo Factory to fit the T-34. The resulting new T-34-85 tank had a much better gun and finally, a three-man turret with radio (which had previously been in the hull). Now the commander needed only to command the tank, leaving the operation of the gun to the gunner and the loader. Although a T-34 85 fortsatt var ikke en kamp for en Panther, bedre ildkraft gjort det mye mer effektivt enn før. Beslutningen om å forbedre eksisterende design i stedet for verktøy opp for en ny lov Sovjeterne til å produsere stridsvogner i slike tall at forskjell i evner kunne anses som ubetydelig. I Mai 1944, Wehrmacht hadde bare 304 Panthers som opererer på østfronten, mens Russerne hadde økt T-34-85 produksjon til 1200 tanker per måned.
Kilde: T-34 85 på Wikipedia
T-34-85 Walk Around
Fotograf
Vladimir Yakubov
Lokalisering
Jacques Littlefield's Samling
Bilder

167
Vent, Søking T-34 85 for deg...

T-34 85
Fotograf
Ukjent
Lokalisering
Ukjent
Bilder
66
Relaterte kits: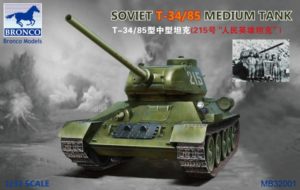 T-34/85 Sovjetiske Medium Tank
Bronco
MB32001
1:35
Full Kit
Clic for Søk
T-34-85 Walk Around
Fotograf
Ukjent
Lokalisering
Heeresgeschichtliches Museum,Wien
Bilder
67
Finn sett på eBay:
Søk på eBay
Søk etter hva du trenger, Vi foreslår dette, men det er du som bestemmer
T-34-85 Walk Around
Fotograf
Bill Maloney
Lokalisering
Patton Museum
Bilder
20
Du kan se også :
Du kan kommentere her :
T-34 85 – WalkAround fra r/NetMaquettes
Views : 6722