Stridsvognen T-34, Polsk

Land
Polska
Type
Medium tank
Emnet

Album av

31

bilder vandre rundt i en tank T-34, Polsk
photo gallery of a Tank T-34 Polish, The Stridsvognen T-34 was the most important weapon fielded by the Red Army in World War II. Sloping armour increased protection, the V-2 diesel engine used a less flammable fuel, the Christie suspension was fast on rough terrain, and wide tracks gave low ground pressure for good mobility in mud and snow, although reliability and manufacturing issues dogged the wartime production models. The 76.2 mm main armament remained effective to decreasing degrees through the end of the war; the improved 85 mm gun was among the world's best in early 1944, and ensured that the overall T-34 design would remain competitive with German designs.
Kilde: Wikipedia

Sett på forum
Wait, Searching Tank T-34 Polish photos for you…

Relaterte kits:
T-34/D30 122mm Syriske selvgående Howitzer
Rye Feltet Modell
5030
1:35
Full Kit
Clic for Søk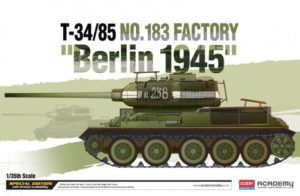 T-34/85 [183 Fabrikk
Academy
13295
1:35
Full kit
Clic for Søk
Finn sett på eBay:
Søk på eBay
Søk etter hva du trenger, Vi foreslår dette, men det er du som bestemmer
Du kan se også :
Views : 1445