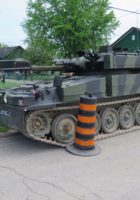 FV107 Scimitar

Land
STORBRITANNIA
Rolle
Rekognosering kjøretøy
Produsent

Alvis / BAE Systems Land & Armaments

Bygget
500+
Den FV107 Scimitar is an armoured reconnaissance vehicle (sometimes classed as a light tank) used by the British Army. It was manufactured by Alvis in Coventry. It is very similar to the FV101 Scorpion, but mounts a high velocity 30 mm L21 RARDEN cannon instead of a 76 mm gun. It was issued to Royal Armoured Corps armoured regiments in the reconnaissance role. Each regiment originally had a close reconnaissance squadron of five troops, each containing eight FV107 Scimitars.
Kilde: FV107 Scimitar Wikipedia
Wait, Searching FV107 Scimitar for you…

Scimitar FV107 Gå Rundt
Fotograf
Vladimir Yakubov
Beliggenhet
Ontario Regiment Museum
Bilder
83
Wait, Searching FV107 Scimitar for you…

Relaterte kits:
Finn sett på eBay:
Søk på eBay
Søk etter hva du trenger, Vi foreslår dette, men det er du som bestemmer
Du kan se også :
Du kan kommentere her :
FV107 Scimitar – Gå Rundt fra r/NetMaquettes
Visninger : 138