Bergepanther

Land
Nazi-Tyskland
Rolle
Pansrede recovery kjøretøy
I tjeneste
1943-1945
Bygget

339
Den Panther was a German medium tank deployed during World War II on the Eastern and Western Fronts in Europe from mid-1943 to its end in 1945. It had the ordnance inventory designation of Sd.Kfz. 171. Until 27 February 1944, it was designated as the Panzerkampfwagen V Panther when Hitler ordered that the Roman numeral "V" be deleted. Contemporary English language reports sometimes refer to it as the Mark V. Bergepanther : Armoured recovery vehicle.
Kilde: Bergepanther på Wikipedia
Vente, Søke Bergepanther bilder for deg...

Bergepanther
Fotograf
Ukjent
Beliggenhet
Ukjent
Bilder
30
Vente, Søke Bergepanther for deg...

Relaterte kits: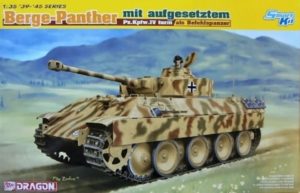 Bergepanther med vedlagte Pz.Kpfw.IV tårnet som en kommando tank
Dragon
1:35
Full kit
Clic for Søk
Finn sett på eBay:
Søk på eBay
Søk etter hva du trenger, Vi foreslår dette, men det er du som bestemmer
Du kan se også :
Bergepanther – Gå Rundt fra NetMaquettes
Views : 3694
Søk etter:
bergepanther
bergepanther walk around
bergpanther
bergepanther walkaround
verlinden bergepanther
bergepanther photos
verlinden bergepanther review
bergerpanther
bergepanther flames of war
bergepanther books
walkaround bergepanther
panther ausf d flak bergepanther
hobby boss bergepanther forum
berg panther walk around
hobby boss flak bergepanzer
bergenpanther photo
bergepanther sdkfz 179
hobby boss 1/35 panther d flak bergepanzer
bergepanther zimmerit
bergepanter