Bergepanther

Zemlja
Nacistička Nemačka
Ulogu

Armoured recovery vehicle

U službi
1943–1945
Izgradio

339
The Panter was a German medium tank deployed during World War II on the Eastern and Western Fronts in Europe from mid-1943 to its end in 1945. It had the ordnance inventory designation of Sd.Kfz. 171. Until 27 February 1944, it was designated as the Panzerkampfwagen V Panther when Hitler ordered that the Roman numeral "V" be deleted. Contemporary English language reports sometimes refer to it as the Mark V. Bergepanther : Armoured recovery vehicle.
Izvor: Bergepanther on Wikipedia
Bergepanther
Fotograf
Nepoznato
Lokalizacija
Nepoznato
Fotografije
30
Wait, Searching Bergepanther photos for you…

Srodni kompleti: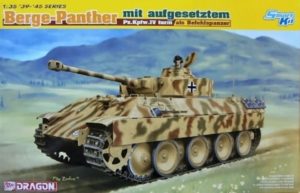 Bergepanther mit aufgesetztem Pz.Kpfw.IV Turm als Befehlspanzer
Zmaja
1:35
Kompletan komplet
Clic za pretragu
Pronađi komplete na eBay-u:
Pretraga na eBay-u
Tražimo ono što vam treba, predlažemo vam ovo, ali vi ste ti ti koji odlučujete
...
Wait, Searching Armoured recovery vehicle for you…

Views : 6732