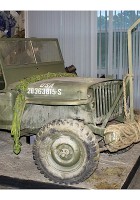 Willys MB

Paese
USA
Ruolo
1/4 ton 4×4 camion
Produttori
Willys-Overland (MB) – Ford GPW)
Costruito
MB: 359489 – GPW: 277896
Il Willys MB and the Ford GPW, both formally called the U.S. Army Truck, 1/4 ton, 4×4, and commonly known as Jeep or jeep, are four-wheel drive military utility vehicles that were manufactured during World War II (from 1941 to 1945) to help mobilize the Allied forces. The World War II jeep became the first 4-wheel drive car to be manufactured in six-figure numbers. After the war, it evolved into the civilian Jeep CJ models, and inspired both an entire category of recreational 4WDs and several generations of military light utility vehicles.
Fonte: Jeep Willys MB su Wikipedia
Attendere, Ricerca Jeep Willys MB di foto per voi...
Jeep Willys MB
Fotografo
Unknow
Localizzazione
Unknow
Foto
Novanta nove
Attendere, Ricerca Jeep Willys MB per voi...
Willys MB US Army Jeep Piedi Intorno
Fotografo
Eugeny Ivanov
Localizzazione
Unknow
Foto
41
Si può vedere anche :
Jeep Willys MB WalkAround
Fotografo
Vladimir Yakubov
Localizzazione
US Navy Seabee Museo
Foto
51
Correlati kit:
Jeep Willys MB con Rimorchio Australiano Forze Insegne
Italeri
314
1:35
Kit completo
Clicca per la Ricerca
Trovare i kit su eBay:
Cerca su eBay
Ricerca di che cosa avete bisogno, Noi suggeriscono questo, ma sta a voi decidere
Vista : 2161
Trovare da:
jeep mb
виллис мб форд гпв 1945 г
willys mb
jeep willys vendita
ウイリスmb
Виллис МБ Форд ГПВ 1945г
ウィリスMBジープ
ウイリスmb フォードgpw
ウィリス ジープ
ウィリス MB
ВИЛЛИС МБ ФОРД ГПВ 1941-1945г КУПЛЮ
Jeep willys walkarround radiador
wwii willys mb jeep
m38 jeep walk around
ウィリスMBジープ 第二次世界大戦
jeep willys dokumentace
ウィリスジープ各部
ウィリス ジープ
military jeep
ww2 cj3a jeep