FriulModel

Subject

Caterpillars ATL-112

Echelle
1/35
Réf

ATL-112
Caterpillars in FriulModel : tracks "Mitteleler Zugkraftwagen 5t ( Sd. Kfz. 6-6/2 – DIANA) – FRIULMODEL ATL-112".
95 links in 1/35 th scale and a wire to obtain the track pivots .
The SdKfz 6 mittlerer Zugkraftwagen 5 t. (Sonderkraftfahrzeug 6) was a vehicle half track designed as a artillery tractor, manufactured by Bussing-NAG and Daimler-Benz from 1934 to 1942. Used by the German army to tow the canon FH 18 10.5-cm, it turned out, however, too honéreux to the manufacture, and was replaced by the SdKfz 11 3-ton or the sWS, to be sufficient for this task. Variant :76.2 mm Pak 36(r) on tank destroyer self-propelled gun Zugkraftwagen 5t (SdKfz 6): SdKfz 6, dit "Diana", ou un canon russe de 76,2 capturé prenait place dans une superstructure blindée sur l'arrière du véhicule.
Source: SdKfz.6 sur Wikipedia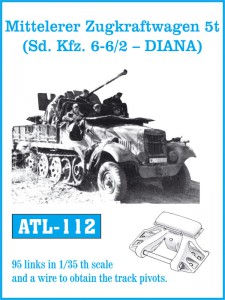 Wait, Searching FRIULMODEL ATL-112 for you...

Find kits on eBay:
Search on eBay
Search for what you need, We suggest this but it is you who decide
Find items about "sd.kfz.6" on AliExpresS :
You can see also :
Related kits:
Views : 505