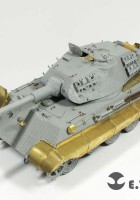 Ref
E35-033
Type
Photo-cut -
Scale
1/35
Description

A set of 5 boards photodécoupes and 9 art. resin for kits Dragon King Tiger
A set 2011 for kits Dragonbrand E. T. Model the kit : "WWII German KING TIGER (Porsche Turret)".
Le Panzerkampfwagen VI Königstiger, or Sd.Kfz. 182 Panzer VI ausf B Tiger II, nicknamed the Königstiger (Tiger royal), is a German tank of the Second world War. Product 50 copies for the model to turret "Porsche", 439 copies for the model to turret "Henschel", this tank was equipped with an important shielding, an anti-tank gun giving it the ability to put out of action all allied tanks in service during the last two years of the conflict, but it had the same engine as the Panther. Its power-weight ratio was so less, it was slow and little mobile, extremely greedy fuel, and had to change tracks before and after all rail transport.
Source: King Tiger sur Wikipedia
Wait, Searching E.T.MODEL E35-033 for you…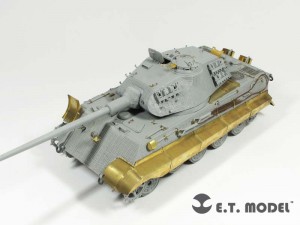 Wait, Searching E.T.MODEL E35-033 for you…
You can see also :
Find items about "konigstiger" on AliExpress:
Views : 1304
Find by:
king tiger walkaround
королевский тигр википедия
king tiger wikipedia
meng kingtiger
königstiger panzer
king tiger model
kingtiger
tiger 2 königstiger
MENG MODEL KING TIGER
Walkaround King Tiger
king tiger 2
아카데미 킹타이거
tanque aleman tigredossegunda guerramundial
tiger panzer
キングタイガー 205
кинг тигр
PE35377 review
konigstiger Porsche
király tigris modell
tiger panzer harz