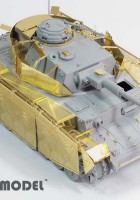 E. T. MODEL

Ref
E35-091
Type
Photo-cut -
Scale
1/35
Description

Set of photodécoupes for kits Dragon the Pz.Kpfw.IV Ausf.J Schurzen
A set of the brand E. T. Model the kit : "WWII German Pz.Kpfw.IV Ausf.J Schurzen".
Le SdKfz 161 Panzerkampfwagen IV (PzKpfW IV), called 'Panzer IV', was a tank of middle class used by the German army during the Second world War. Originally designed as a fire support tank and armed with a gun of 75 mm short KwK 37 L/24 for Panzer IV Ausf. A / B / C / D / E / F, it was rearmed with a cannon long anti-tank 75 mm KwK 40 L/43 from march 1942 for the Panzer IV Ausf. F2 / G / H / J. The PzKpfW IV was the tank most used by the Panzerwaffe, with 9 000 copies produced, and it gave birth to many versions.
Source: Panzer IV on Wikipedia
Wait, Searching E. T. MODEL E35-091 for you...
Wait, Searching Pz.Kpfw.IV Ausf.J for you...
You can see also :
Find items about "Schurzen" on AliExpress:
Views : 1020
Find by:
e t model
panzer iv j
panzerkampfwagen iv ausf j
differences between PzKpfw IV Ausf J and PzKpfw IV Ausf H
schurzen
tamiya 1:16 panzerwagen iv
et model panzer iii ausf j basic
pzkpfw iv free model
panzer 1:16 mit Schürzen
academy panzer iv review
PANZERKAMPFWAGEN IV Ausf H 1/16 Trumpeter
panzer iv schurzen
et set e35-091
e t model pz iii
e t models e35-091
1:16 panzer IV Ausf-J revew
4号戦車J ノルマンディ
dragon 1/35 panzer VI Type J
1/16 PzKpfw IV Ausf H
et models panzer iii j