Lockheed CP-140 Aurora

Usuario principal

Royal Canadian Air Force

Papel
Aviones de patrulla marítima
Primer vuelo
22 de Marzo de 1979
Built
21
El Lockheed CP-140 Aurora is a maritime patrol aircraft operated by the Royal Canadian Air Force. The aircraft is based on the Lockheed P-3 Orion airframe, but mounts the electronics suite of the S-3 Viking. "Aurora" refers to the Roman goddess of dawn who flies across the sky each morning ahead of the sun. Aurora also refers to the Aurora Borealis, the "northern lights", that are prominent over northern Canada and the Arctic Ocean. The CP-140A Arcturus was a related variant used primarily for pilot training and coastal surface patrol missions.
Fuente:

Lockheed CP-140 Aurora on Wikipedia
Wait, Searching Lockheed CP-140 Aurora for you…

Lockheed CP-140 Aurora Walk Around
Fotógrafo

Bas Damen

Ubicación
Unknow
Fotos
22
Wait, Searching Lockheed CP-140 Aurora for you…

Relacionados con los kits: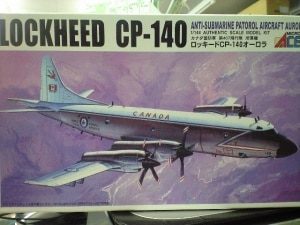 Lockheed CP-140 ANTI-SUBMARINE PATROL AIRCRAFT
1:144
Kit completo
Haz Clic para Buscar
Encontrar kits en eBay:
Búsqueda en eBay
La búsqueda de lo que necesita, sugerimos que este, pero es usted quien decide
Se puede ver también :
Puedes comentar aquí :
Lockheed CP-140 Aurora – Walk Around

de NetMaquettes
Views : 605