Lockheed CP-140 Aurora

Primary user

Royal Canadian Air Force

Ulogu

Maritime patrol aircraft

Prvi let

22 March 1979

Izgradio
21
The Lockheed CP-140 Aurora is a maritime patrol aircraft operated by the Royal Canadian Air Force. The aircraft is based on the Lockheed P-3 Orion airframe, but mounts the electronics suite of the S-3 Viking. "Aurora" refers to the Roman goddess of dawn who flies across the sky each morning ahead of the sun. Aurora also refers to the Aurora Borealis, the "northern lights", that are prominent over northern Canada and the Arctic Ocean. The CP-140A Arcturus was a related variant used primarily for pilot training and coastal surface patrol missions.
Izvor:

Lockheed CP-140 Aurora on Wikipedia
Lockheed CP-140 Aurora Walk Around
Fotograf

Bas Damen

Lokalizacija
Nepoznato
Fotografije
22
Wait, Searching Lockheed CP-140 Aurora for you…

Srodni kompleti: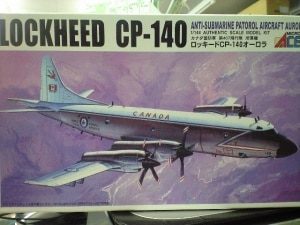 Lockheed CP-140 ANTI-SUBMARINE PATROL AIRCRAFT
1:144
Kompletan komplet
Clic za pretragu
Pronađi komplete na eBay-u:
Pretraga na eBay-u
Tražimo ono što vam treba, predlažemo vam ovo, ali vi ste ti ti koji odlučujete
Možete videti i :
Views : 1217