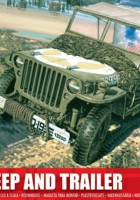 Ref
A01322
Tipo de
Kit De Modelo
Escala
1/76
Tema

Jeep Willys y el Remolque
Un modelo de la marca Airfix el kit : Willys Jeep and Trailer – Airfix A01322.
The ultimate utilty vehicle in WWII was the Willys Jeep. Due to the huge demand Ford was contracted to produce them as well. The Ford car was then designated GPW, with the "W" referring to the "Willys" licensed design. During World War II, Willys produced 363,000 Jeeps and Ford some 280,000. Approximately 51,000 were exported to the U.S.S.R. under the Lend-Lease program. A top speed of 65mph and a lightweight construction enabled it to operate in many locations unsuited to other vehicles.
Espera, la Búsqueda de Airfix A01322 para usted...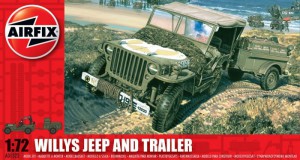 Espera, la Búsqueda Jeep Willys para usted...
Se puede ver también :
Find items about "Jeep" on AliExpresS (c):
Vistas : 375
Buscar por:
přívěs willys
model Willys Jeep
jeep willys MB model
wyllis gr
willys-jeepmodellbausatz
přívěs za jeep willys
prives jeep
modely kit jeep willys
Přívěs na jeep Willys
jepp willys maketa
jeep wyllis mb
jeep wylis ww2
jeep willys with trailer
jeep willys trailer
Jeep Willys SAS
ジープトレーラー
jeep wiilys přívěs
jeep trailer
jeep přívěs
foto trailer jeep willis