Martin PBM Mariner

Land
USA
Rolle
Patrouille bomber Fliegen Boot
Zuerst Fliegen

18 February 1939

Gebaut

1366
Die Martin PBM Mariner was an American patrol bomber flying boat of World War II and the early Cold War period. It was designed to complement the Consolidated PBY Catalina in service. A total of 1,366 were built, with the first example flying on 18 February 1939 and the type entering service in September 1940.
Quelle: Martin PBM-Trick auf Wikipedia
Martin PBM Mariner
Fotograf
Unknow
Lokalisierung
Unknow
Fotos
Wait, Searching Martin PBM Mariner for you...

Martin Mariner PBM-5A Walk Around
Fotograf
Cees Hendriks
Lokalisierung
Unknow
Fotos
28
Wait, Searching Martin PBM Mariner fotos for you...

Verwandte kits: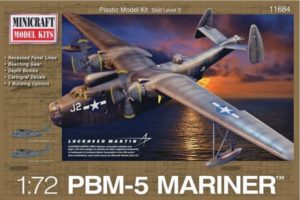 PBM-5 Mariner
Minicraft Model Kits
1:72
Full kit
Clic für die Suche
Finden kits auf eBay:
Suche auf eBay
Suche für das, was Sie benötigen, Wir empfehlen dies, aber es ist Ihr, die entscheiden
You can see also :
Martin PBM-5A Mariner Walk Around
Fotograf
Vladimir Yakubov
Lokalisierung
Pima Air and Space Museum, Tucson
Fotos
133
Sie können den Kommentar hier :
Martin PBM Mariner – Spaziergang Rund um aus NetMaquettes
Views : 2495
Find by:
pbm mariner
martin mariner 1/72
martin pbm mariner
PBM Mariner in Action
pbm 5a mariner photos
PBM martin
PBM-5A
martin mariner seaplane pbm
хидроплан Мартин Маринър
martin mariner model kit
1/72 martin mariner
1/72 PBM mariner
Martin PBM Mariner maquette
profile PBM mariner
pbm-5a mariner
martin mariner cockpit
Idrovolante martin mariner
idrovolanti martin
martin mariner mach kit
martin mariner interior image