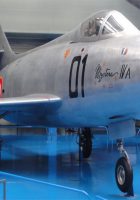 Dassault Mystere

Land
Frankreich
Rolle
Fighter-bomber
Erstflug
23. Februar 1951
Gebaut
171
Die Dassault MD.452 Mystère is a 1950s French fighter-bomber. After the success of the Ouragan, Dassault was working on a more advanced machine based on it, which would take to the air in early 1951 as the MD.452 Mystère I. The first prototype Mystère I was essentially an Ouragan with a 30-degree swept wing and modified tail surfaces. Two further prototypes followed, powered by the Rolls-Royce Tay 250 centrifugal-flow turbojet, an improved version of the Rolls-Royce Nene, built under license by Hispano-Suiza, and rated at 28.0 kN (6,300 lbf) thrust.
Warten Sie, Suche Dassault Mystere Fotos für Sie...

Dassault Mystere Herumlaufen
Fotograf
Meindert de Vreeze
Lokalisierung
Unknow
Fotos
27
Warten Sie, Suche Dassault Mystere für Sie...

Verwandte kits:
Finden kits auf eBay:
Suche auf eBay
Suche für das, was Sie benötigen, Wir empfehlen dies, aber es ist Ihr, die entscheiden
You can see also :
Aufrufe : 715