Black Dog

Ref
35046
Type
Accessories
Scale
1/35
Topic
US M10 accessories set
A set improvement in Black Dog the accessory set resin "US M10 accessories set 35046".
The Hunter char M10 Wolverine (le nom officiel américain du M10 était « affût automoteur ») est un véhicule blindé américain construit à partir de 1942 utilisé pendant la Seconde Guerre mondiale. Pour suppléer à la faiblesse antichar des Sherman, les Américains dotèrent leurs unités d'un véhicule spécialisé dans la lutte antichar, à l'instar des chasseurs de chars allemands. Le M10 Wolverine était mécaniquement très proche du Sherman et son train de roulement était commun. Sa superstructure et sa tourelle étaient par contre originales. Le canon de 76,2 mm valait largement celui du Panzer IV, mais se révèla trop faible contre le blindage des chars allemands plus lourds. Livré aux Britanniques et adaptés par eux, le M10 prit le nom d'Achilles. Le véhicule est parfois surnommé Wolverine ou Slugge
Source: US M10 on Wikipedia
Wait, Searching the BLACK DOG 35046 for you...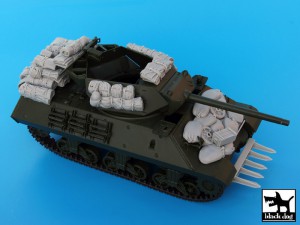 Wait, Searching US M10 for you...
You can see also :
Find items about "US M10 1:35" on AliExpress:
Views : 347
Find by:
m10 wolverine
1:35 M10 Accessory Set
US M10 Stowage set
maqquette accessories
m10 wolverine 1/35 set
m10 tank destroyer mode ACCESSORIES
M10 Scout carro
m10 academy 1308
m10 1/35 stowage
kutya tartozékok
interieur M10 wolverine
afv wolverine
accessoire pour t10 achilles academy
wolverine 1:35