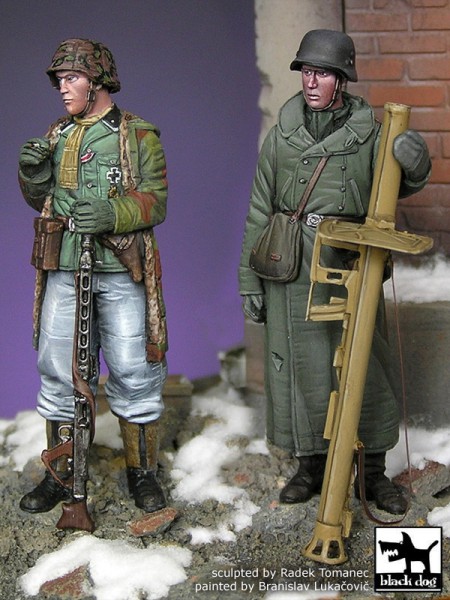 Black Dog

Ref
F35024
Type
Figurines
Echelle
1/35
A set at Black Dog The set of resin figurines "Grenadiers Ardennes 1945 set".
The term Panzergrenadier, from 1942, refers to the special infantry of the Heer and the Waffen-SS, responsible for accompanying the battle tanks.
Pour remplir leur mission, ils bénéficiaient de moyens de transport organiques. Une partie d'entre eux combattaient à bord de semi-chenillés comme le SdKfz 251, leurs unités prenant le qualificatif de "gepanzert" (littéralement cuirassés), et d'autres faute de moyens devaient se contenter de camions, et étaient qualifiés de "motorisiert" (motorisés). Sur les 226 bataillons de Panzergrenadiers affectés à la Heer, Waffen-SS ou Luftwaffe en 1943, seuls 26, soit un peu plus de 10%, étaient équipés de véhicules semi-chenillés. Ils étaient souvent armés de façon nettement plus puissante que l'infanterie conventionnelle, équipés de nombreuses mitrailleuses MG34 ou MG 42, et d'une dotation supérieure en pistolet mitrailleurs de type MP40. Vers la fin de la guerre, ils furent parmi les premières unités à recevoir des fusils d'assaut Sturmgewehr 44. Au niveau de leur uniforme, ils se distinguaient par le passepoil de leurs pattes d'épaule de couleur vert pré, qu'ils avaient repris aux troupes motocyclistes, à ne pas confondre avec le vert clair des chasseurs de montagne.
Source: Wikipedia
Wait, Searching BLACK DOG F35024 for you…

Wait, Searching Panzergrenadier for you…

Views : 652