Profile Publications

Series

AFV Weapons

Title
Chars Hotchkiss, H35, H39, and Somua 35
Ref
36
Description

Review on light tanks French
The Hotchkiss H35 or Char léger model 1935 H was a light tank French, 1930s. It was drawn from a version that is better powered, the Hotchkiss H-39 in 1939.
Le char Somua S35 était un véhicule blindé de la Seconde Guerre mondiale construit par Somua, considéré comme le meilleur char de combat français en 1940. Produit à 430 exemplaires, il était rapide, correctement blindé (ce fut le premier char de l'histoire équipé d'un blindage incliné, plus résistant pour autant d'épaisseur) et armé d'un canon de 47 mm. Équipé d'une tourelle monoplace, le chef de char faisait office de canonnier, ce qui empêchait de tirer pleinement parti de l'armement principal.
Source: Wikipedia
Wait, Searching AFV Weapons 36 for you...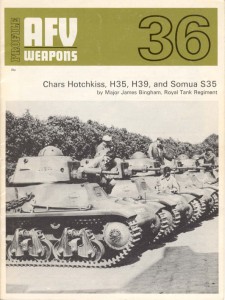 Wait, Searching Somua 35 for you...

Related kits:
Find kits on eBay:
Search on eBay
Search for what you need, We suggest this but it is you who decide
You can see also :
Views : 1142
Find by:
somua tamiya
maquette h35
Hotchkiss H 39 walk around
Hotchkiss H35/H39
Hotchkiss H39
tank h39 allemand
hotchkiss h35 card model
hotchkiss tanwues fotos
hotchkiss char les plans
H39 befehlspanzer O V
freshw2q
foto de caminhao somua
FCM36 1/285
chars hotchkiss
Char Somua SM
H39 WALK
Char Hotchkiss 35 39
char hotchkiss
CHAR H39 WALK AROUND
armi modello scala