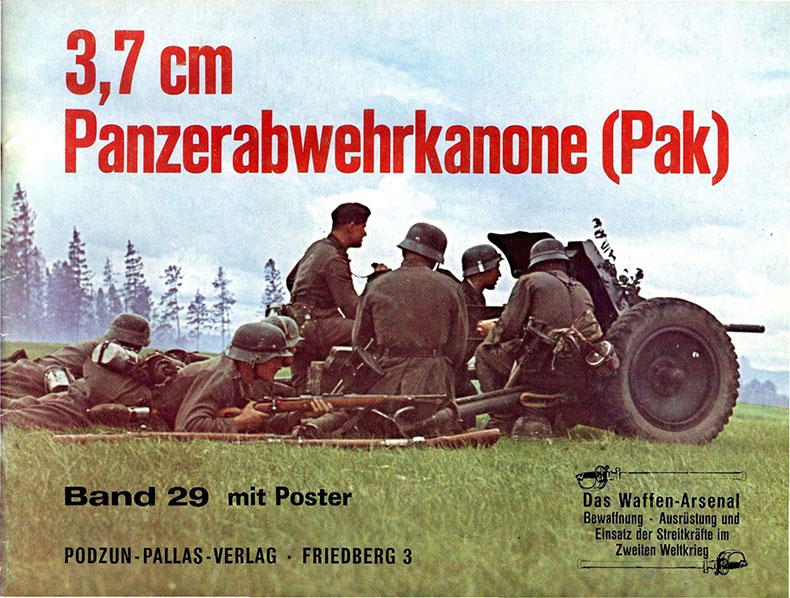 Waffen Arsenal

Series
Waffen Arsenal
Subject

3.7 cm PaK 36

Réf
029
A documentation signed Waffen Arsenal the review of "3.7 cm PaK 36 – Waffen Arsenal 029" .
The Pak 36 (Panzerabwehrkanone 36) était un canon anti-char allemand pouvant tirer des obus de 37 mm de calibre. Développé en 1936 par Rheinmetall, le Pak 36 apparut la même année durant la Guerre civile espagnole. Il devint la base des canons anti-char de nombreux pays pendant les premières années de la Seconde Guerre mondiale. Le KwK 36 L45 était le même canon, mais servait d'armement sur plusieurs chars de combat, notamment les modèles du début de la guerre, comme le Panzer III. Le PaK 36, étant une arme de petit calibre, devint rapidement dépassé dès la Campagne de l'Ouest de mai 1940. Les soldats allemand les trouvèrent plus qu'inutiles face à des chars lourds, comme le Matilda Mark II britannique, les Char B1 ou Somua S-35 français. Les médiocres performances du Pak 36 lui valurent le surnom de Heeresanklopfgerät ou "frappe-à-la-porte de l'armée", comme le rapporte Antony Beevor dans son ouvrage sur la Bataille de Stalingrad1. Le PaK 36 began to be replaced by the new 5 cm PaK 38 in the early 1940s. The addition of shells surrounded by a layer of tungsten added a bit to the armor penetration of the Pak 36. When German troops clashed for the first time the T-34 soviet, the Pak 36 proved to be this time completely useless. Despite this, it remained the anti-tank gun standard for many units. The crew of the PaK 36 came, however, to destroy many enemy tanks, but to do this, you should be able to shoot them in the rear armor of the tank, which required nerves of steel and allowed no second chance.
Source: Wikipedia
Wait, Searching Waffen Arsenal 029 for you...

Wait, Searching PaK36 for you...

[AFG_gallery lestags='PaK36′]
You can see also :
Find items about "PaK36" on AliExpress:
Views : 360