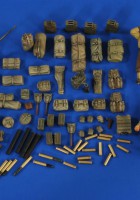 Réf

2687

Type
Accessories
Echelle
1/35
Description

Accessoires et équipage pour le "M3 15mm Gun Carriage".
A kit of the brand Verlinden les accessoires : "M3 15mm Gun Carriage Ammo – Stowage – Crew – Verlinden 2687".
L'autochenille blindée – Halftrack en anglais – fut le premier véhicule de transport de troupes de l'US Army à être employé opérationnellement. Il fut construit et utilisé intensivement durant la Seconde Guerre mondiale et continua sa carrière bien au-delà au Proche-Orient notamment où il fut utilisé sous de nombreuses versions en Israël ou au Liban (ALS). Certaines versions sont d'ailleurs encore utilisées aujourd'hui comme le Tsefa. Sa version antiaérienne, le M 16, termine quant à lui sa carrière opérationnelle au milieu des années 80. Soixante-dix variantes représentant 41 000 véhicules sortirent usines de Diamond T, White et Autocar.
Source: Wikipedia
Wait, Searching Verlinden 2687 for you…

Wait, Searching M3 15mm Gun for you…

You can see also :
Views : 296