Réf
0

2316

Type
Maquette
Echelle
1/35
Description

Une maquette du Soviet 122mm corps gun M1931/1937
A mock-up of the brand Trumpeter le kit: "Soviet 122mm corps gun M1931/1937 with M1931 Wheel (A-19)".
Le canon 122mm M1931/37 (A-19) était un canon de campagne soviétique développé en fin des années 1930, en combinant le canon du 122mm M1931 (A-19) et le transport des 152mm obusier-gun M1937 (ML-20). Le canon était en production à partir de 1939 jusqu'en 1946. Il a vu l'action de la Seconde Guerre mondiale (principalement avec le corps et l'artillerie RVGK de l'Armée Rouge) et est resté en service pendant une longue période après la fin de la guerre. En plus de la variante remorqué, l'arme avait un certain nombre de véhicules montés sur des produits dérivés.
Source: Canon M1937 sur Wikipedia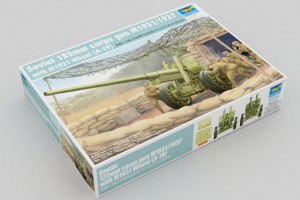 Wait, Searching Trumpeter 02316 for you…

Find kits on eBay:
Search on eBay
Search for what you need, We suggest this but it is you who decide
Find items about "Soviet 122mm" on AliExpresS :
You can see also :
Related kits:
Views : 512