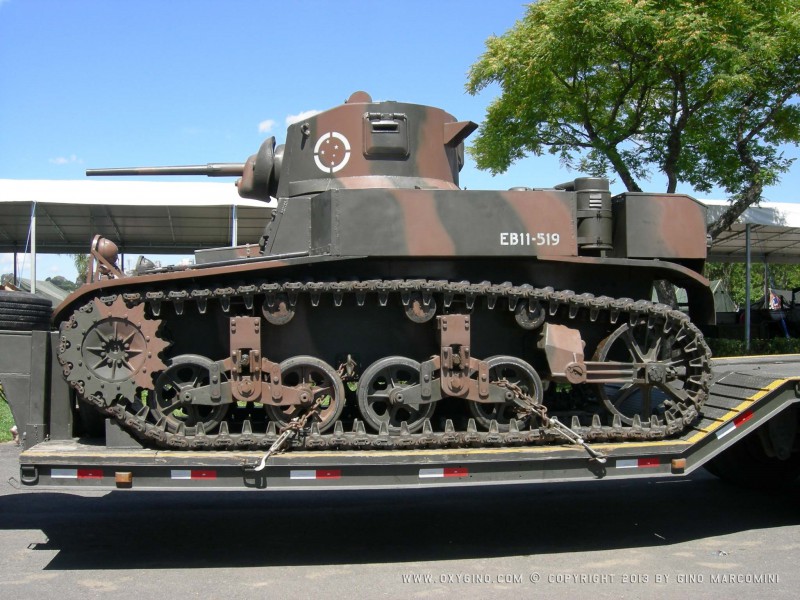 M3A1 Stjuart

Zemlja
Sad
Ulogu
Svetlosni rezervoar
Izgradio

22000+
The M3 Stjuart, officially Light Tank, M3, was an American light tank of World War II. It was supplied to British and other Commonwealth forces under lend-lease prior to the entry of the U.S. into the war. Thereafter, it was used by U.S. and Allied forces until the end of the war. The British service name "Stuart" came from the American Civil War Confederate general J. E. B. Stuart and was used for both the M3 and the derivative M5 Light Tank. In U.S. use, the tanks were officially known as "Light Tank M3" and "Light Tank M5". Stuarts were the first American-crewed tanks in World War II to engage the enemy in tank versus tank combat. The Stuart was also the light tank counterpart of the M3 Lee, which was a medium tank.
Izvor: M3 Stuart on Wikipedia
M3A1 Stuart
Fotograf
Nepoznato
Lokalizacija
Nepoznato
Fotografije
15
Wait, Searching M3A1 Stuart photos for you…

Specifikacije (Light Tank M3A3 (Stuart V)) : Weight 32,400 lb (14,700 kg) Length 14 ft 2.4 in (4.33 m) Width 8 ft 1.2 in (2.47 m) Height 7 ft 6 in (2.29 m) Crew 4 (Commander, gunner, driver, co-driver) Armor 13–51 mm (0.51–2.01 in) Main armament 37 mm M6 in M44 mount 174 rounds Secondary armament 3 × .30-06 Browning M1919A4 MG 7,500 rounds Engine Continental W-670-9A, 7 cylinder air-cooled radial 250 hp (190 kW) Power/weight 17.82 hp/tonne Suspension Vertical volute spring Operational range 74 mi (119 km) Speed 36 mph (58 km/h) on road 18 mph (29 km/h) off-road
Srodni kompleti:
M3A1 General Stuart Light Tank Walk Around
Fotograf
Bil Maloni
Lokalizacija
Militia Museum of New Jersey
Fotografije
18
Pronađi komplete na eBay-u:
Pretraga na eBay-u
Tražimo ono što vam treba, predlažemo vam ovo, ali vi ste ti ti koji odlučujete
M3A1 Stuart Walk Around
Fotograf
Nepoznato
Lokalizacija
Nepoznato
Fotografije
44
...
Indonesian M3A1 Stuart Walk Around
Fotograf

Ricky Garry Gurnita

Lokalizacija
Nepoznato
Fotografije
21
Wait, Searching M3A1 Stuart photos for you…

Views : 2946