Supermarine Spitfire VIII

Country
UK
Type

Single-seat fighter aircraf

Description

Album of

28

photos walk-around of a Supermarine Spitfire VIII
V Supermarine Spitfire is a British single-seat fighter aircraft that was used by the Royal Air Force and many other Allied countries throughout the Second World War. The Spitfire continued to be used as a front line fighter and in secondary roles into the 1950s. It was produced in greater numbers than any other British aircraft and was the only British fighter in continuous production throughout the war. The Spitfire was designed as a short-range, high-performance interceptor aircraft by R. J. Mitchell, chief designer at Supermarine Aviation Works (which operated as a subsidiary of Vickers-Armstrong from 1928). Mitchell continued to refine the design until his death from cancer in 1937, whereupon his colleague Joseph Smith became chief designer. Where speed was seen as essential to carrying out the mission of home defence against enemy bombers, the Spitfire's thin cross-section elliptical wing allowed it a higher top speed than several contemporary fighters, including the Hawker Hurricane.
Vir: Wikipedija
Wait, Searching Supermarine Spitfire VII photos for you…

Povezani kompleti: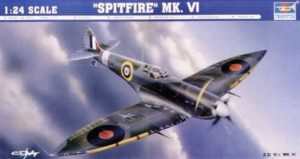 Trobentač
1:24
Celoten komplet
Clic za iskanje
Poiščite komplete na eBayu:
Iskanje na eBayu
Poiščite, kar potrebujete, predlagamo to, vendar ste vi tisti, ki se odločite
Prav tako si lahko ogledate:
Views : 2408