Supermarine Spitfire VIII

Country
UK
Type

Single-seat fighter aircraf

Description

Album of

28

photos walk-around of a Supermarine Spitfire VIII
El Supermarine Spitfire is a British single-seat fighter aircraft that was used by the Royal Air Force and many other Allied countries throughout the Second World War. The Spitfire continued to be used as a front line fighter and in secondary roles into the 1950s. It was produced in greater numbers than any other British aircraft and was the only British fighter in continuous production throughout the war. The Spitfire was designed as a short-range, high-performance interceptor aircraft by R. J. Mitchell, chief designer at Supermarine Aviation Works (which operated as a subsidiary of Vickers-Armstrong from 1928). Mitchell continued to refine the design until his death from cancer in 1937, whereupon his colleague Joseph Smith became chief designer. Where speed was seen as essential to carrying out the mission of home defence against enemy bombers, the Spitfire's thin cross-section elliptical wing allowed it a higher top speed than several contemporary fighters, including the Hawker Hurricane.
Fuente: Wikipedia
Espera, Buscando Supermarine Spitfire VII fotos para usted...

Espera, Buscando Supermarine Spitfire VII para usted...

Relacionados con los kits: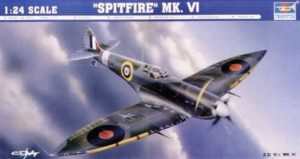 Spitfire Mk.VI.
El trompetista
02413
1:24
Kit completo
Haz Clic para Buscar
Encontrar kits en eBay:
Búsqueda en eBay
La búsqueda de lo que necesita, sugerimos que este, pero es usted quien decide
Se puede ver también :
Puedes comentar aquí :
Supermarine Spitfire VIII – WalkAround de r/NetMaquettes
Vistas : 1357
Buscar por:
supermarine spitfire walkaround books pdf depositfiles
supermarine spitfire walkaround
supermarine spitfire modelli foto
supermarine spitfire mk1a walkaround
spitfire walkaround book
spitfire viii wings
spitfire MK22/24 walkaround photos
spitfire 21 walkaround
spitefier VIII
maly modelarz super marine spitfire
kettenkrad walk around