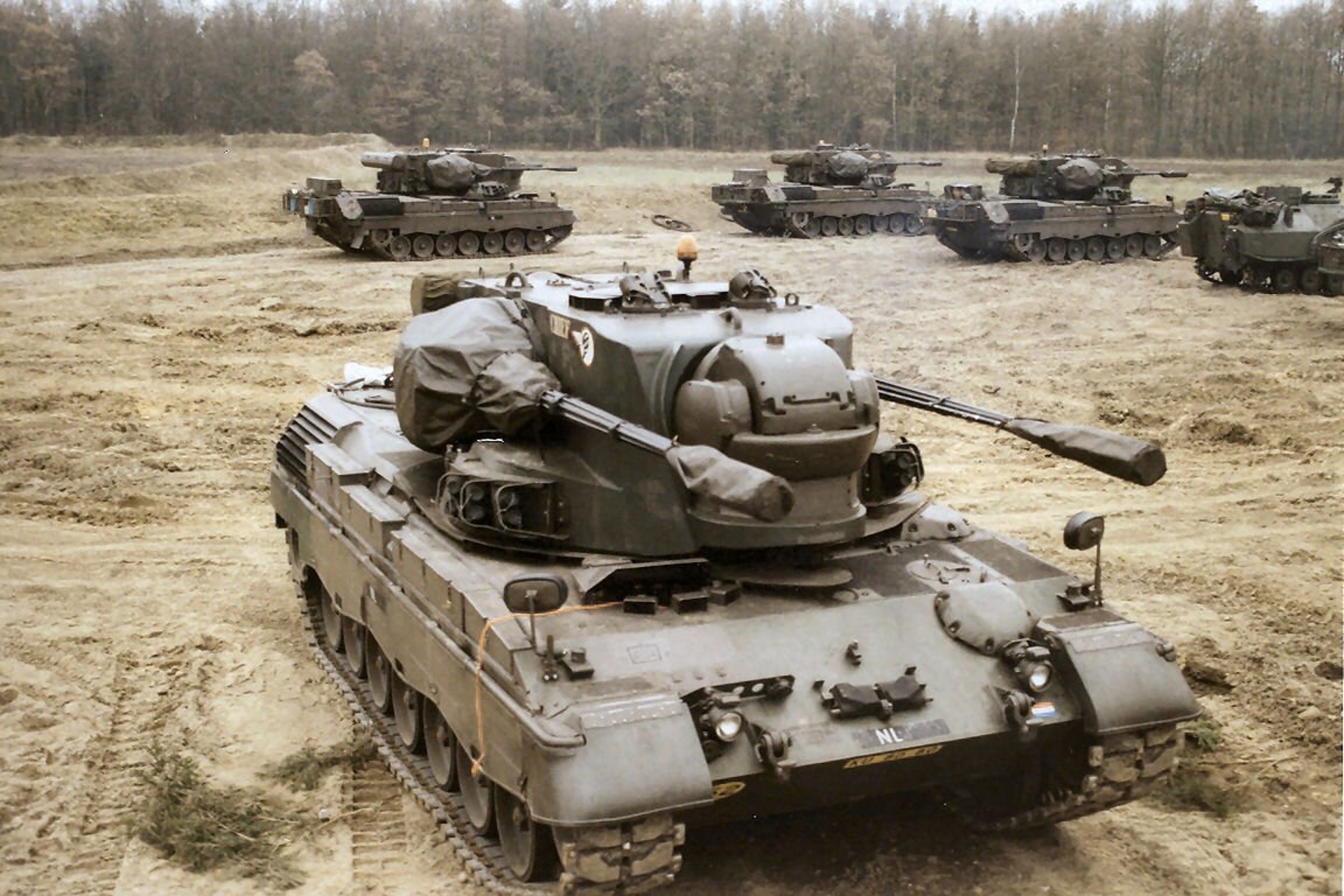 Nizozemski PRTL

Država
Nizozemski
Vlogo
Protiletalski topovi tank
The Flugabwehrkanonenpanzer Gepard ("anti-aircraft cannon tank Cheetah", better known as the Flakpanzer Gepard) is an autonomous, all-weather-capable German self-propelled anti-aircraft gun (SPAAG). It was developed in the 1960s and fielded in the 1970s, and has been upgraded several times with the latest electronics. It constituted a cornerstone of the air defence of the German Army (Bundeswehr) and a number of other NATO countries. In Germany, the Gepard was phased out in late 2010 to be replaced by "SysFla", a mobile and stationary air defence system using the LFK NG missile and the new MANTIS gun system. The mobile platform of SysFla will likely be based on the GTK Boxer.
Dutch variant : Search radar: X band, 15 km range Tracking radar: X/Ka band, 13 km range The Dutch version was officially called the PRTL (PantserRupsTegenLuchtdoelen translating to "ArmourTrackAgainstAirtargets"), pronounced as "pruttel" (meaning 'to sputter') by the soldiers. The Dutch series version was made public through a photograph of a vehicle from a C-Company, the first to be equipped with the new weapon. Traditionally all Dutch vehicles in a company have names beginning with the company designation letter and this vehicle happened to have the individual name Cheetah painted in bold type on its turret. Inevitably the international press assumed "Cheetah" was the Dutch name for their Gepard version and this mistake found its way into most armour publications on the subject. In 2000 the Dutch military authorities, tired of constantly having to explain all this and considering "pruttle" was hardly a martial name anyway, conformed themselves to common error and made "Cheetah" the official designation, when the system was upgraded.
Dutch PRTL
Fotograf
Gert Burkert-Opitz
Lokalizacija
Neznani
Fotografije
27
Wait, Searching Dutch PRTL photos for you…

Krauss-Maffei PRTL 'Pruttel' Walk Around
Fotograf
Meindert de Vreeze
Lokalizacija
Neznani
Fotografije
85
">v class="video-container">
Povezani sklopi:
Našli kompleti na eBay:
Iskanje na eBay
Iskati tisto, kar potrebujete, priporočamo, da to, vendar to je vas, ki se odločijo,
Vidite lahko tudi :
Ogledov : 1669