Spitfire HF IXe

Country
UK
Période
Seconde guerre mondiale
Type
Chasseur
Description

Album

30

photos walk-around du chasseur "Spitfire HF IXe".
Galerie photo sur un Spitfire HF IXe , Le Supermarine Spitfire (en anglais cracheur de feu, mais aussi au sens figuré soupe au lait) fut l'un des chasseurs monoplaces les plus utilisés par la RAF et par les Alliés pendant la Seconde Guerre mondiale. Les ailes elliptiques du Spitfire lui ont donné une apparence très reconnaissable ; leur section transversale mince lui a donné une vitesse impressionnante ; la conception brillante du concepteur en chef Reginald Mitchell et de ses successeurs (il est mort en 1937), a fait du Spitfire un avion apprécié par les pilotes. Il a servi pendant toute la durée de la Seconde Guerre mondiale, et avec toutes ses variantes a été de tous les combats. Plus de 20 300 appareils furent construits, et les Spitfire sont restés en service jusque dans les années 1950. Spitfire HF IX : version of transition equipped with Merlin 61, 63, 66 or 70 mounted on the cell of the Mk.V ; wing LF, F or HF armament B, C or E (5 665 copies)
Source: Spitfire on Wikipedia
Wait, Searching Spitfire HF IXe photos for you...

Technical characteristics : Equipage : 1 pilote Moteur : 1xRolls-Royce Merlin 61 12-Cylindres en V de 1470 ch, refroidis par liquide Type : 12 cylindres en V Puissance unitaire : 1470 ch (1 096 kW) Envergure : 11,23 m Longueur : 9,47 m Hauteur : 3,86 m Surface alaire : 22,48 m Poids à vide : 2 300 kg Poids Maxi : 3 100 kg Vitesse maximale : 575 km/h (Mach 0,49) Plafond : 13 105 m Vitesse ascensionnelle : 1 445 m/min Rayon d'action : 724 km Endurance : 1 840 km Charge alaire : 119,91 kg/m² Rapport poids/puissance : 0,22 kg/ch Armement interne : 2 canons Hispano Mk II de 20 mm (60 obus/arme) 4 mitrailleuses Browning 1919 de 7,7 mm (350 coups/arme) Armement externe : 1 bombe de 230 kg
Related kits:
Spitfire MkII Aces High 35th Anniversary Iron Maiden
Revell
05688
1:32
Full Kit
Clic for Search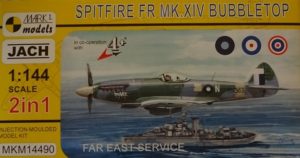 Spitfire FR MK.XIV Bubbletop Far East Service
Mark I Models
MKM14490
1:144
Full Kit
Clic for Search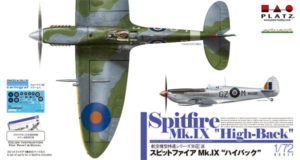 Spitfire Mk.IX
Platz
AE-15
1:72
Full Kit
Clic for Search
Find kits on eBay:
Search on eBay
Search for what you need, We suggest this but it is you who decide
You can see also :
Views : 2431