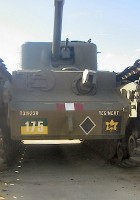 Churchill Crocodile

Country
UK
Type
Char lance-flamme
Description

Album

50

photos walk-around du char Churchill Crocodile
Galerie photo sur un char Churchill Crocodile, Le char Churchill or more formally, Infantry Tank MkIV, or A22, is a british tank used during the Second world War. It is the final culmination of the concept of the infantry tank, then in effect, in the british army. He was renowned for his strong shield, and to have served as the basis for many derivatives, special Hobart's Funnies. After a difficult start, it was produced nearly 8 400 copies and served honorably in the british army until 1952. It received its name in honour of Winston Churchill who, in addition to being the prime minister of the time, had taken an important part, during the First world War, the emergence of the first tanks. It would have said : "This tank has more faults than me."
Source: Char Churchill sur Wikipedia
Wait, Searching Churchill Crocodile pictures for you...
Wait, Searching Churchill Crocodile for you…
Related kits:
Find kits on eBay:
Search on eBay
Search for what you need, We suggest this but it is you who decide
You can see also :
Views : 1635
Find by:
char churchill crocodile
char churchill
churchill tank walkaround
churchill crocodile
танк крокодил
tanque churchill
SHERAN TANQUE GUERRA
volkswagen sheran bako turis
Churchill Mk-VIII
Churchill Crocodile zoeken
丘吉尔crocodile
char churchill 4
pictures churchill crocodile
maquette du char churchill crocodile
maquette char churchill
krokodíl plameňomet
fotos de un tanque de guerra cocodrilo
crocodile tank 1:35
crocadile tank
char crocodile