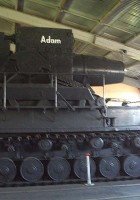 600mm Adam Self-Propelled Mortar

Country
Germany
Type
Self-Propelled Mortar
Period
ww2
Topic

Album of

114

photos of a 600mm Adam Self-Propelled Mortar
Photo galery of a 600mm Adam Self-Propelled Mortar, "Karl-Gerät" (040/041) (German literally "Karl-device"), also known as Thor and Mörser Karl, was a World War II German self-propelled siege mortar (Mörser) designed and built by Rheinmetall. It was the largest self-propelled weapon to see service.[1] Its heaviest munition was a 60 cm (24 in) diameter, 2,170 kg (4,780 lb) shell, and the range for its lightest shell of 1,250 kg (2,760 lb) was just over 10 km (6.2 mi). Each gun had to be accompanied by a crane, a heavy transport trailer, and several modified tanks to carry shells. In total, seven Karl-Geräte howitzers were manufactured. The first six had the nicknames "Adam" (later "Baldur"), "Eva" (later "Wotan"), "Thor", "Odin", "Loki", and "Ziu"; the seventh, the research and test weapon (Versuchs-Gerät), had no name.
Source: Wikipedia
Wait, Searching 600mm Adam Self-Propelled Mortar photos for you…
600mm Adam Self-Propelled Mortar 1
600mm Adam Self-Propelled Mortar 2
600mm Adam Self-Propelled Mortar 3
600mm Adam Self-Propelled Mortar 4
600mm Adam Self-Propelled Mortar 5
600mm Adam Self-Propelled Mortar 6
600mm Adam Self-Propelled Mortar 7
600mm Adam Self-Propelled Mortar 8
600mm Adam Self-Propelled Mortar 9
600mm Adam Self-Propelled Mortar 10
600mm Adam Self-Propelled Mortar 11
600mm Adam Self-Propelled Mortar 12
Wait, Searching 600mm Adam Self-Propelled Mortar for you…
You can see also :
Find items about "Self-Propelled Mortar" on AliExpress:
Views : 1338
Find by:
mortaio 60 millimetri
カール自走砲
adam mortier
カール自走臼砲
https://upload wikimedia org/wikipedia/commons/thumb/f/fd/Mortars_Karlgeret_Adam jpg/120px-Mortars_Karlgeret_Adam jpg
houwitser thor
haubica eva
hasegawa 600mm rail mortar
german ww2 moldel cranes for airtillary shells ebay
gerat 040 walkaround
działo 600mm
deutsche haubitze thor
Canon auto propulser Allemand adam
album foto karl gerat mortar
1/72 カール自走臼砲
600mm カール 動画
600㎜臼砲カール
自走臼砲 ロキ ドラゴン 完成品
600 mm mortar \thor\
600 mm mortar