Ilyushin Il-2

Land
URSS
Type
Bakke-angrep fly
Første flight

2 October 1939

Bygget

38183
Den Ilyushin Il-2 (Cyrillic: Илью́шин Ил-2) Sturmovik was a ground-attack aircraft (Cyrillic: Штурмови́к, Šturmovík) produced by the Soviet Union in large numbers during the Second World War. With 36,183 units of the Il-2 produced during the war, and in combination with its successor, the Ilyushin Il-10, a total of 42,330 were built, making it the single most produced military aircraft design in aviation history, as well as one of the most produced piloted aircraft in history along with the American postwar civilian Cessna 172 and the Soviet Union's own then-contemporary Polikarpov Po-2 Kukuruznik multipurpose biplane.
Kilde: Wikipedia
Iliouchine Il-2
Fotograf
Ukjent
Beliggenhet
Ukjent
Bilder
36
Vente, Søke Ilyushin Il-2 for deg...

Ilyushin Il-2M3 Walk Around
Fotograf
Vladimir Yakubov
Beliggenhet
Flyr Heritage Collection
Bilder
72
Vente, Søke Ilyushin Il-2 for deg...

Relaterte kits: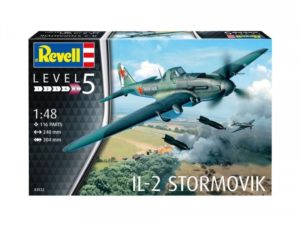 Il-2 Stormovik
Revell
1:48
Full kit
Clic for Søk
Finn sett på eBay:
Søk på eBay
Søk etter hva du trenger, Vi foreslår dette, men det er du som bestemmer
Du kan se også :
IL-2M3 Walk Around

Il-2 production 1944 "wing with arrow"

: Referred in West as "Il-2M3" or "Il-2 Type 3". As more duralumin became available for the Soviet aviation industry, the Il-2 received a set of all-metal wing panels. At the same time, the outer wing planform was swept back, with a straight trailing edge, since the centre of gravity was shifted rearwards after the gunner was added. The wing planform change regained controllability of the two-seat Il-2 back to level of the single-seat Il-2.

Fotografer

Sebastian Rios, Martin Sedlacek

Beliggenhet
Ukjent
Bilder
26
Ilyushin Il-2 – Gå Rundt fra NetMaquettes
Views : 2077
Søk etter:
Il-2 walkaround
il-2 walk around
ilyushin il-2 walkaround
il 2 walkaround
Ilyushin IL-2
Iliouchine DB-3 model
il-2m3 walk around
ILJUSIN IL-2
il 2 walk around
illiouchine
armata 45mm walk around
iljuszyn ił-2
HobyBoss Ил-2
il-2m walk around
il-2m3 hobby boss
https://yandex ru/clck/jsredir?from=yandex ru;search;web;;&text=&etext=1824 Jf9TD1-AHrekqJGGZsU4JrNHbvDr9vlBbZIuAxnd-k7kFb3YQh23JvybnfI5IApp 07264905075e8b932ca0191121022e335e5bec3f&uuid=&state=_BLhILn4SxNIvvL0W45KSic66uCIg23qh8iRG98qeIXme
aviarestorer
https://yandex ru/clck/jsredir?from=yandex ru;search;web;;&text=&etext=1832 QF8Sxg_WQPvxiHSejSD1UR2CiniZuTH4B3IW6WF2_5_a0yf9fiR2AeOUGbQF5Isf 58d508aa9667924d634711241bd13eb448b25f19&uuid=&state=_BLhILn4SxNIvvL0W45KSic66uCIg23qh8iRG98qeIXme
фото самолёта и-153 чайка
iliouchine il2M3/37