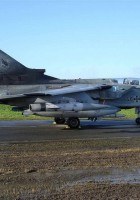 Tornado

Land
Duitsland
Rol

Gevechtsvliegtuigen

Eerste vlucht
14 augustus 1974
Gebouwd
992
De Panavia Tornado is a family of twin-engine, variable-sweep wing combat aircraft, which was jointly developed and manufactured by the United Kingdom, West Germany and Italy. There are three primary variants of the Tornado; the Tornado IDS (interdictor/strike) fighter-bomber, the suppression of enemy air defences Tornado ECR (electronic combat/reconnaissance) and the Tornado ADV (air defence variant) interceptor. The Tornado was developed and built by Panavia Aircraft GmbH, a tri-national consortium consisting of British Aerospace (previously British Aircraft Corporation), MBB of West Germany, and Aeritalia of Italy. It first flew on 14 August 1974 and was introduced into service in 1979–1980. Due to its multirole nature, it was able to replace several different fleets of aircraft in the adopting air forces. The Royal Saudi Air Force (RSAF) became an export operator of the Tornado in addition to the three original partner nations. A tri-nation training and evaluation unit operating from RAF Cottesmore, the Tri-National Tornado Training Establishment, maintained a level of international cooperation beyond the production stage.
Bron: Tornado op Wikipedia
Wacht, Zoeken Tornado ECR foto ' s voor je...
Tornado ECR
Fotograaf
Onbekend
Coördinaten
Onbekend
Foto ' s
56
Wacht, Zoeken Tornado ECR voor u...
Panavia Tornado IDS Rond te Lopen
Fotograaf
Martin Zahalka
Coördinaten
Onbekend
Foto ' s
44
Verwante kits:
Pakketten vinden op eBay:
Zoeken op eBay
Zoeken naar wat je nodig hebt, raden We dit maar het is u die besluiten
Je kunt ook zien :
Panavia Tornado IDS Rond te Lopen
Fotograaf
Ulrich Wrede
Coördinaten
Onbekend
Foto ' s
73
Tornado GR4 Walk Around
Fotograaf
Cees Hendriks
Coördinaten
Onbekend
Foto ' s
100
Panavia 200 Tornado IDS
Fotograaf
Ulrich Wrede
Coördinaten
Onbekend
Foto ' s
44
U kunt hier commentaar :
Tornado ECR – WalkAround van NetMaquettes
Uitzicht : 3549
Te vinden door:
revell tornado bundesluftwaffe 1/72
TORNADO ECR
トルネード戦闘機
panavia tornado walkaround
Tornado ECR walk around
tornrdo ids walkaround
tornado ids photos
ドイツレベル パナビアトーネード
tornado ecr walkaround
トルネード 戦闘機
tornado ecr tigermeet walk around
raf tornado walkaround
Panavia tornado walk around photos
トーネード ドイツレベル
kit revell tornado 1 32
pictures of tornado ecr tigermeet
レベル トーネード
rsaf recce tornado photos
flugzeug tornado walkaround
tornado ecr tigermeet