Rif
0

2291

Tipo
Modello in scala
Scala
1/32
Argomento

Messerschmitt Bf 109E-7
Un kit del marchio Trumpeter il kit: «Messerschmitt Bf 109E-7 – Trumpeter 02291».
Fuselage : Left and right fuselage moulded w/ authentic details – Engine : Finely detailed engine – Interior : Finely detailed engine accessory compartment, Finely detailed cockpit – Wings : Optional position flaps – Rubber tires – PE : Photo-etched parts to upgrade details
The E-7 was a long range fighter derived from the E-4/N. Like that aircraft it had the DB 601N engine, two MG-17 machine guns in the engine cowling and two MG/FF cannon in the wings. However, it also had attachments for a 300 litre drop tank, giving it a significantly extended range. The same attachments could also be used to fit a SC 250 bomb rack, allowing the E-7 to carry a single 250 kg bomb.
Wait, Searching Trumpeter 02291 for you…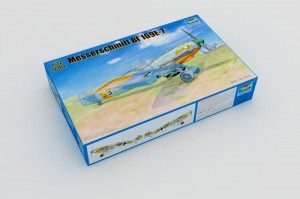 Attendere, Ricerca Messerschmitt Bf 109 per voi...

You can see also :
Find items about "Messerschmitt" on AliExpress (c):
Views : 687