Réf

35802

Type
Maquette
Echelle
1/35
Description

Une maquette du 76,2 mm F-22 avec chevaux
A mock-up of the brand Icm le kit: "76,2 mm F-22 with Horse Transport".
The ZiS-3 ( russe : 76-мм дивизионная пушка образца 1942 года (ЗиС-3)) était un canon divisionnaire de campagne de 76,2 mm, utilisé par l'armée soviétique pendant la Seconde Guerre mondiale. Beaucoup d'experts en artillerie classent ce canon parmi les meilleures pièces d'artillerie de la Seconde Guerre mondiale, avec le Canon de 88 allemand et l'obusier de 25 livres britannique. ZiS signigie "Zavod imeni Stalina" (en Russe Завод имени Сталина, 'usine au nom de Staline'), le nom officiel de la fabrique d'artillerie No. 92 de Moscou qui a commencé la production de ce canon.
Source: ZiS-3 sur Wikipedia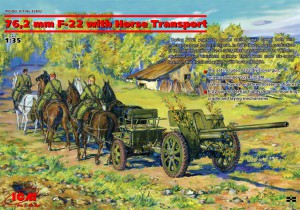 Wait, Searching ICM 35802 for you…

Find kits on eBay:
Search on eBay
Search for what you need, We suggest this but it is you who decide
Find items about "Red Army" on AliExpresS (c):
You can see also :
Related kits:
Views : 1105